YouTube is running an experiment asking some users to turn off their ad blockers or pay a premium subscription, otherwise they won't be allowed to watch videos.
As spotted for the first time by a Reddit user this week, YouTube will display a pop-up warning some users that "ad blockers are not allowed".
"It looks like you are using an ad blocker. Ads keep YouTube free for billions of users around the world," the post adds.
Upon receiving this notification, users will have two options: either turn off their ad blocker to allow YouTube ads, or consider subscribing to YouTube Premium to get rid of all ads.
As explained in the pop-up, "You can go ad-free with YouTube Premium, and creators can still get paid from your subscription."
A YouTube spokesperson confirmed this experience and said the company urges viewers to try YouTube Premium or allow ads on the platform.
"We're running a small, global experiment that prompts viewers with ad blockers enabled to either allow ads on YouTube or try YouTube Premium," the spokesperson told BleepingComputer.
"Ad blocker detection is nothing new, and other publishers regularly ask viewers to disable ad blockers."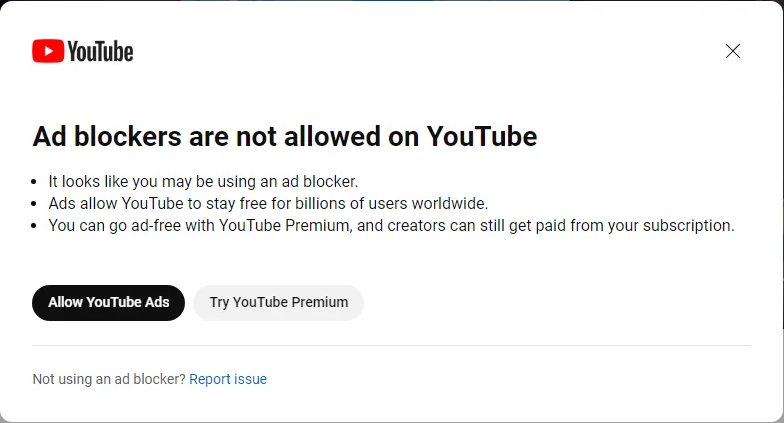 It's currently unknown in how many regions YouTube displays these warnings or if the company plans to completely block those who use ad blockers from accessing the platform.
It comes after the YouTube Music and Premium services surpassed 80 million subscribers in November 2022, adding more than 30 million in just over a year, according to a Variety report,
Pushing users to YouTube Premium will certainly help maintain this accelerated membership growth rate.
Making ads longer and longer in recent years and making some unskippable will also cause some viewers to sign up for an ad-free experience through YouTube Premium on platforms where ad blocking is not possible. or device rooting (e.g. iOS, some TV operating systems).
As a Redditor said"Wouldn't be so bad if it weren't for 2 minutes of unstoppable commercials, and several commercials before the video, commercials interrupting the video, making the videos useless!!!"