Microsoft has released optional cumulative update KB5019275 Preview for Windows 10 20H2, Windows 10 21H1, and Windows 10 21H2 with fourteen fixes and improvements.
This release is primarily a maintenance release, fixing many bugs in ReFS, FIDO2, and various issues that cause Windows applications or desktop to become unresponsive.
The preview for Cumulative Update KB5019275 is part of Microsoft's January 2023 Monthly "C" Update, allowing administrators to test out upcoming fixes released in the February 2023 Patch Tuesday.
Unlike the Patch Tuesday cumulative updates, the "C" preview updates are optional and do not include security updates.
Windows users can install this update by going to Settingsclicking on Windows Update, and manually perform a 'Check for updates.'
Since this is an optional update, you will be asked if you want to install it by clicking on the "Download and Install" link, as shown in the image below.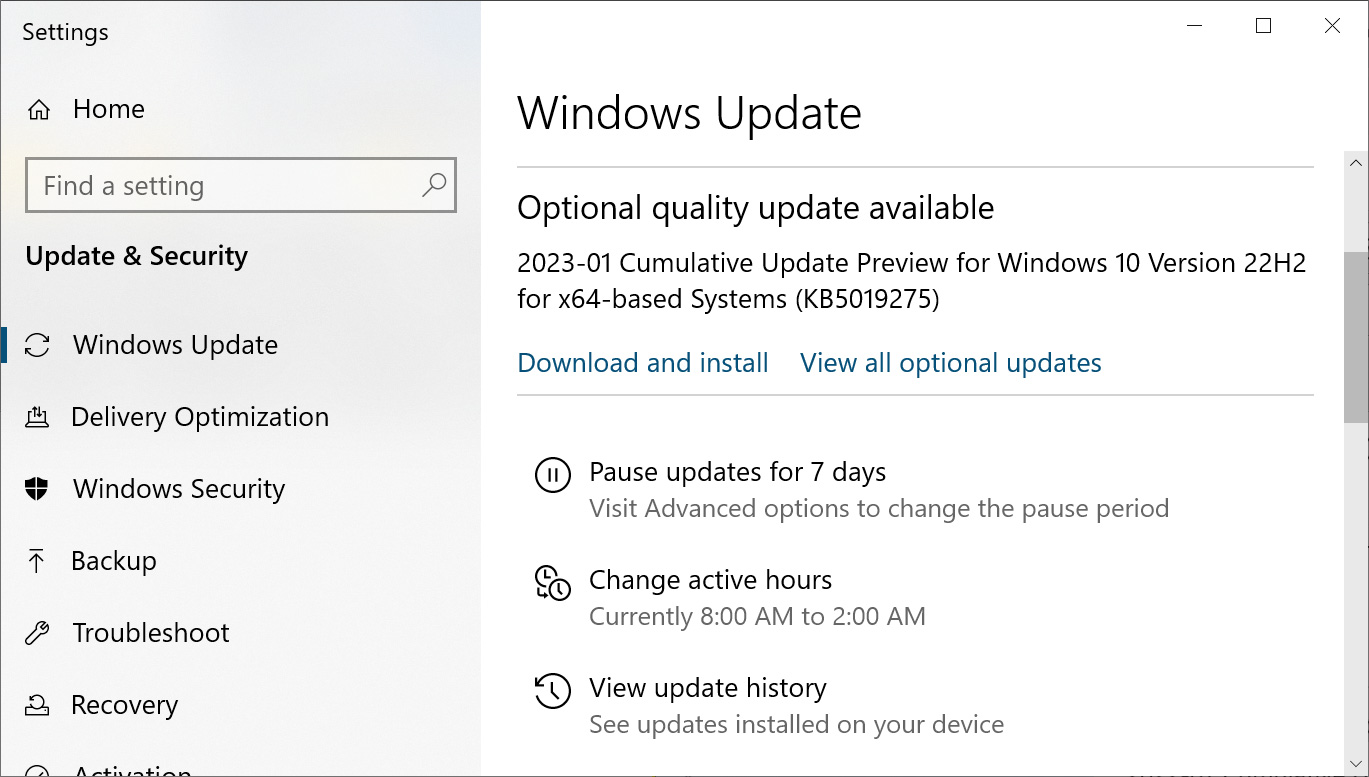 After installing this update, Windows 10 20H2 will be updated to build 9042.2546, Windows 10 21H2 will be updated to build 19044.2546, and Windows 10 22H2 will be updated to build 19045.2546.
Windows 10 users can also manually download and install the KB5019275 preview update from the Microsoft Update Catalog.
Microsoft is also notifying today that after March 2023, no more optional preview updates will be released for Windows 10, version 20H2, and Windows 10, version 21H2.
"After March 2023, there are no longer optional, non-security-related preview builds for supported editions of Windows 10, version 20H2 and Windows 10, version 21H2," Microsoft explains in the support bulletin KB5019275.
"Only cumulative monthly security updates (known as Release "B" or Update Tuesday) will continue for these builds. Windows 10, version 22H2 will continue to receive security and optional releases."
What's new in Windows 10 KB5019275
With this update, Microsoft introduced a new feature where the "System" configuration screen now displays Microsoft OneDrive storage alerts.
Microsoft says these new alerts will only show up when you're low on storage, allowing Windows users to buy more.
KB5019275 also fixes thirteen issues with various Windows services, mostly to fix crashes, unresponsive features, or general bugs.
It's especially worth noting that Microsoft has added support for URL lengths up to 8196 characters, which is far more than anyone is likely to see while browsing the web.
Some of the other notable bug fixes in this release are:
This update fixes an issue that affects searchindexer.exe. It randomly blocks you from logging in or out.
This update fixes an issue that affects conhost.exe, causing it to become unresponsive.
This update fixes an issue that occurs when you open Task View. This causes the desktop to stop responding.
This update addresses an issue that corrupts memory. The issue occurs when using particular HD audio controller hardware.
Microsoft warns of a long-standing issue in this update: Windows installations created from offline media or an ISO image may have Microsoft Edge Legacy removed and replaced with the new modern Microsoft Edge.
"Devices with Windows installations created from custom offline media or a custom ISO image may have Microsoft Edge Legacy removed by this update, but not automatically replaced by the new Microsoft Edge," the bulletin explains. KB5019275.
"This issue only occurs when custom offline media or ISO images are created by embedding this update in the image without first installing the Standalone Servicing Stack (SSU) update released on March 29, 2021 or later."
You can find a full list of fixes in the Support Bulletin KB5019275.