Google today announced that the Google Chrome web browser will likely drop support for Windows 7 and 8.1 starting in February 2023.
After discontinuing support for these two versions of Windows, the company says Chrome users should ensure their devices are running at least Windows 10.
"With the release of Chrome 110 (tentatively scheduled for February 7, 2023), we will officially end support for Windows 7 and Windows 8.1," Google Chrome Support Manager revealed.
"You'll need to make sure your device is running Windows 10 or later to continue receiving future versions of Chrome."
Google's decision to drop support for these platforms aligns with Microsoft's Windows Lifecycle Policy, which lists the Extended Security Update (ESU) for Windows 7 and the End of support for Windows 8.1 on January 10, 2023.
Currently, Windows 7 is still running on more than 10% of all Windows systems worldwide, while Windows 8.1 is only 2.7%, according to GlobalStats statistics counter.
The Google Chrome web browser has a market share of more than 65%followed by Safari with around 18% and Microsoft Edge with 4.32% (which uses the Chrome rendering engine with Microsoft enhancements).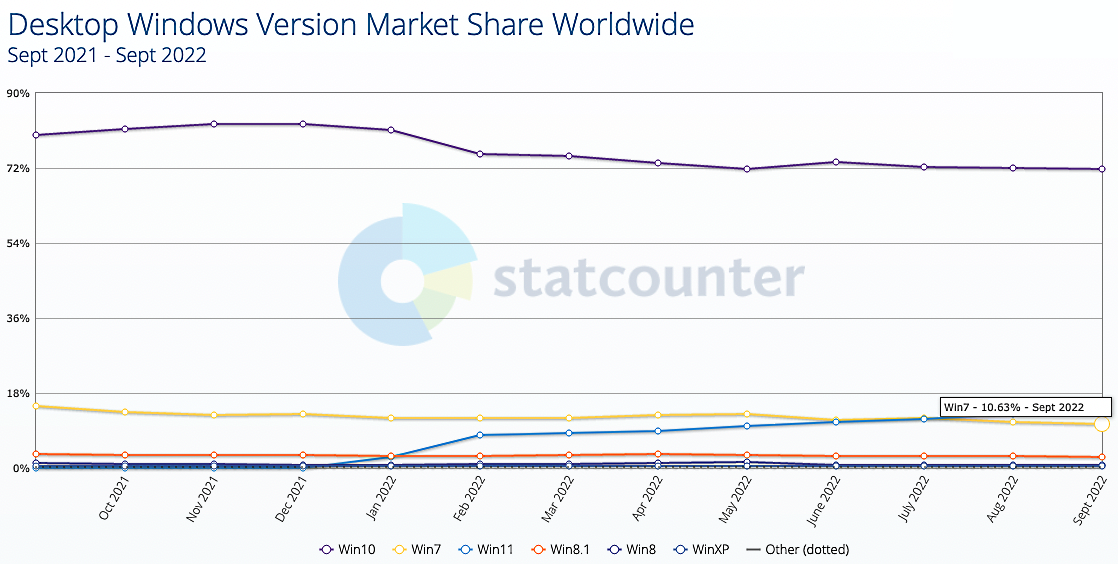 Users are encouraged to upgrade
Although older versions of Google Chrome will work even after support is removed on Windows 7/8.1, Google advises users to upgrade their systems to continue receiving security updates.
This aligns with Microsoft's advice for customers whose systems are running unsupported versions of Windows and no longer receive technical support or software updates, exposing their computers and data to security risks.
"Older versions of Chrome will continue to work, but no further updates will be released for users of these operating systems," the Google employee said. added.
"If you're currently using Windows 7 or Windows 8.1, we encourage you to upgrade to a supported Windows version before then to ensure you continue to receive the latest security updates and Chrome features."