Microsoft says it will provide developers with a new API that will automatically ask Windows users for permission to pin their apps to the taskbar, desktop, or Start menu.
Developers will also be able to send users to the correct settings location via a new deep link URI when they want to make their app the default for a specific file type or link type. This will be implemented as an extension of the already existing ms-settings:URI scheme.
Redmond wants these to become the standard supported methods for pinning Windows apps and app defaults and is committed to adopting them in apps developed by Microsoft as well.
"We will soon be introducing a new publicly available API that will allow apps to pin primary or secondary tiles to the taskbar," said Microsoft's Tali Roth and Aaron Grady. said.
"This API will always invoke a trusted Windows user experience to clarify what is being requested to be pinned and to confirm that the user indeed wishes to allow pinning."
While this gives users more control over which apps are pinned to their taskbar, the pinning confirmation toast notification defaults to the "Accept" button when it should instead highlight the "Decline" or let the user decide.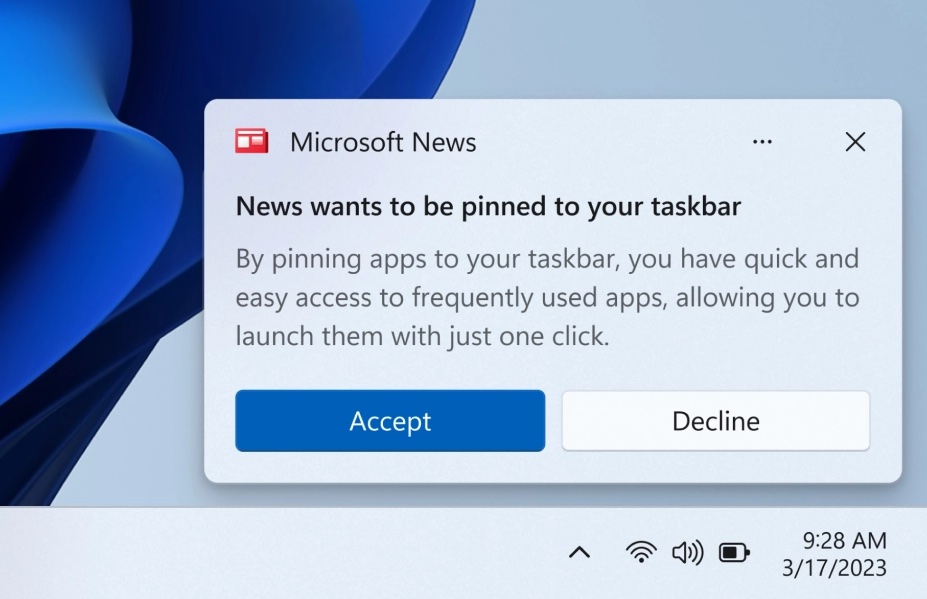 Microsoft has yet to explain whether the new app pinning API that also requires developers to ask for confirmation will be enforced in any way.
"We want to make sure people have control over what's pinned to their desktop, start menu, and taskbar, as well as being able to control their default apps like their default browser through consistent, clear system dialogs. and reliable provided by Windows and Settings," added Roth and Grady.
"We are committed to Microsoft Edge releasing an update that adopts the new Settings deep link URI for default APIs and public pinning as soon as they become available."
These changes will begin rolling out to systems enrolled in the Windows Insider Dev Channel in the coming months.