Microsoft has released the optional June 2023 Cumulative Update for Windows 11, version 22H2, which enables the recently announced update new Moment 3 fixes, improvements and new features.
While Moment 3 modifications have been disabled by default, even though included with update KB5026446users can still turn them on by enabling a toggle in Windows Update settings.
KB5027303 is a non-security monthly preview release that allows Windows administrators to test the improvements that will be introduced with the upcoming July 2023 Patch Tuesday release.
It's also worth mentioning that this update is optional and doesn't include any security fixes, unlike the Patch Tuesday releases.
To install KB5027303, you have two options. You can go to Settings and access Windows Update, where they will find the "Download and Install" button after checking for updates.
You can also download the update from the Microsoft Update Catalog and install it manually.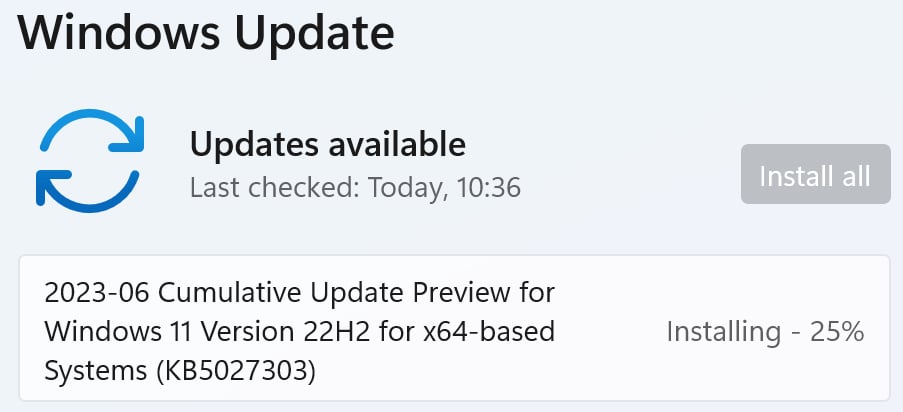 Microsoft previously said these features will be enabled by default with today's optional update (KB5027303) and in the mandatory July Patch Tuesday updates.
"These features will be enabled by default in the optional non-security June 2023 preview release for all editions of Windows 11, version 22H2," said Aaron Woodman, vice president of Windows marketing at Microsoft.
However, in BleepingComputer's tests, not all features are enabled yet.
Moment 3 Update Highlights
Moment 3 features enabled by optional update KB5027303 include:
Deploy notification badges for Microsoft accounts in the Start menu.
A VPN status icon, a small shield, in the system tray. It is displayed when you are logged in to a recognized VPN profile. The VPN icon will be overlaid in your system accent color over the active network connection.
Seconds in the clock on the system tray. To enable it, navigate to the Taskbar Behaviors section in Settings > Personalization > Taskbar. You can also right-click the taskbar to quickly access taskbar settings.
Access keyboard shortcuts in File Explorer context menu
Pluto chips and Moment 3 integration
Adaptive Content Brightness Control (CABC) to work on laptops and 2-in-1 devices.
USB Hubs and Devices Settings Page4.
Improved computer performance when using mice with a high report rate for gaming.
Microsoft has also partnered with Samsung Galaxy and Intel to introduce support for Bluetooth Low Energy Audio, which provides high-quality sound while saving power and improving user experience during calls, videos and music playback on compatible devices.
With this update, Windows 11 will also introduce a preview of upcoming security advancements to strengthen hardware and software protection, including token protection for logins and new isolation capabilities for Win32 apps.
You can find the full list of improvements and fixes in the Support Bulletin KB5027303 released today by Microsoft.