Microsoft has released Windows 11 Cumulative Updates KB5022845 and KB5022836 for versions 22H2 and 21H2 to address security vulnerabilities and operating system bugs.
KB5022845 and KB5022836 are mandatory cumulative updates for Windows 11 because they contain the February 2023 Patch Tuesday Security Updates which fix 77 vulnerabilities in various Microsoft products.
Windows 11 users can install today's update by going to Begin > Settings > Windows Update and clicking on 'Check for updates.'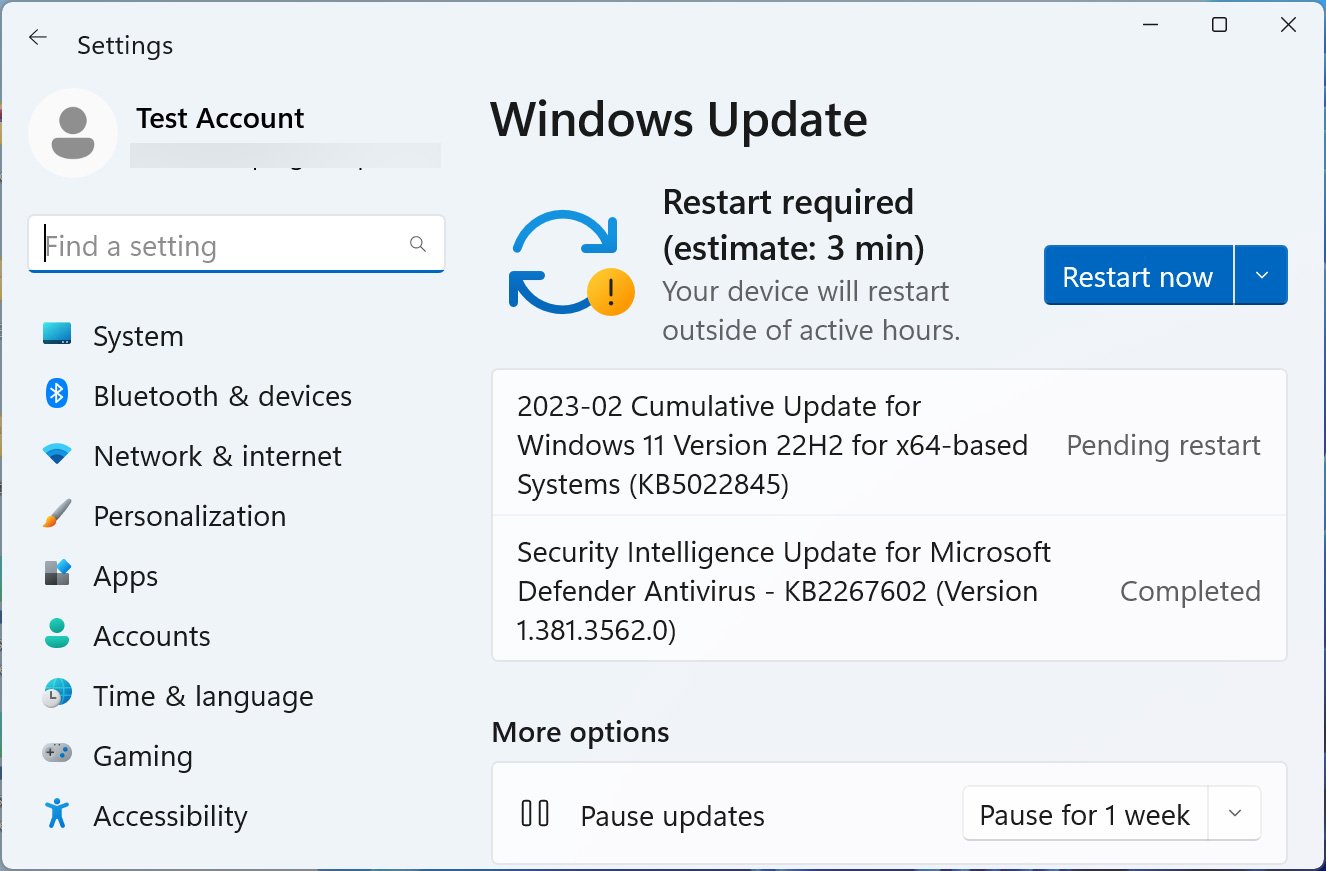 Windows 11 users can also manually download and install the update from the Microsoft Update Catalog.
What's New in Windows 11 Updates KB5022845 and KB5022836
After installing today's non-security update, Windows 11 22H2 (KB5022845) will have its build number replaced by 22621.1265and 21H2 (KB5022836) will be replaced by 22000.1574.
For Windows 11 22H2 and Windows 11 21H2, the following bugs have been fixed:
When the Input Method Editor (IME) is active, applications continue to work when you use the mouse and keyboard at the same time.

If you convert or re-convert Japanese kanji using a multi-byte character set (MBCS) application, they now move to the correct location as you type.

Opening an image file you find using taskbar search will now open in your favorite photo application instead of the photo print dialog.

Microsoft has fixed an issue that prevents you from searching for a file based on its contents.

Microsoft fixed an issue preventing Windows from entering sleep mode when a game controller is connected.
Microsoft is aware of three ongoing issues for Windows 11 22H2 that have not been resolved in this update.
Two long-standing issues are provisioning packages not working as expected and copying large files of several gigabytes (GB) takes longer than expected on SMEs.
Along with this update, Microsoft is also warning that Windows Server Update Services (WSUS) servers may not serve Windows 11 22H2 updates released on or after February 14, 2023.
"Updates released on February 14, 2023 or later may not be offered by some Windows Server Update Services (WSUS) servers to Windows 11, version 22H2. Updates will be downloaded to the WSUS server but may not propagate further to client devices."
"WSUS servers affected are only those running Windows Server 2022 that were upgraded from Windows Server 2016 or Windows Server 2019."
Microsoft says this problem was caused by accidentally deleting required files Unified Update Platform (UUP) MIME types.
You can review last month Windows 11 Preview Update Bulletin KB5022360 for a full list of changes in this cumulative update.