Microsoft has released mandatory Windows 11 22H2 Cumulative Update KB5028185 to fix security vulnerabilities, enable new Moment 3 features, and make over 30 improvements.
KB5028185 is a mandatory Windows 11 cumulative update containing the July 2023 Patch Tuesday security updates that fix 78 vulnerabilities and thirty-eight remote code execution flaws in various Microsoft products.
Windows 11 users can install today's update by going to Begin > Settings > Windows Update and clicking on 'Check for updates.'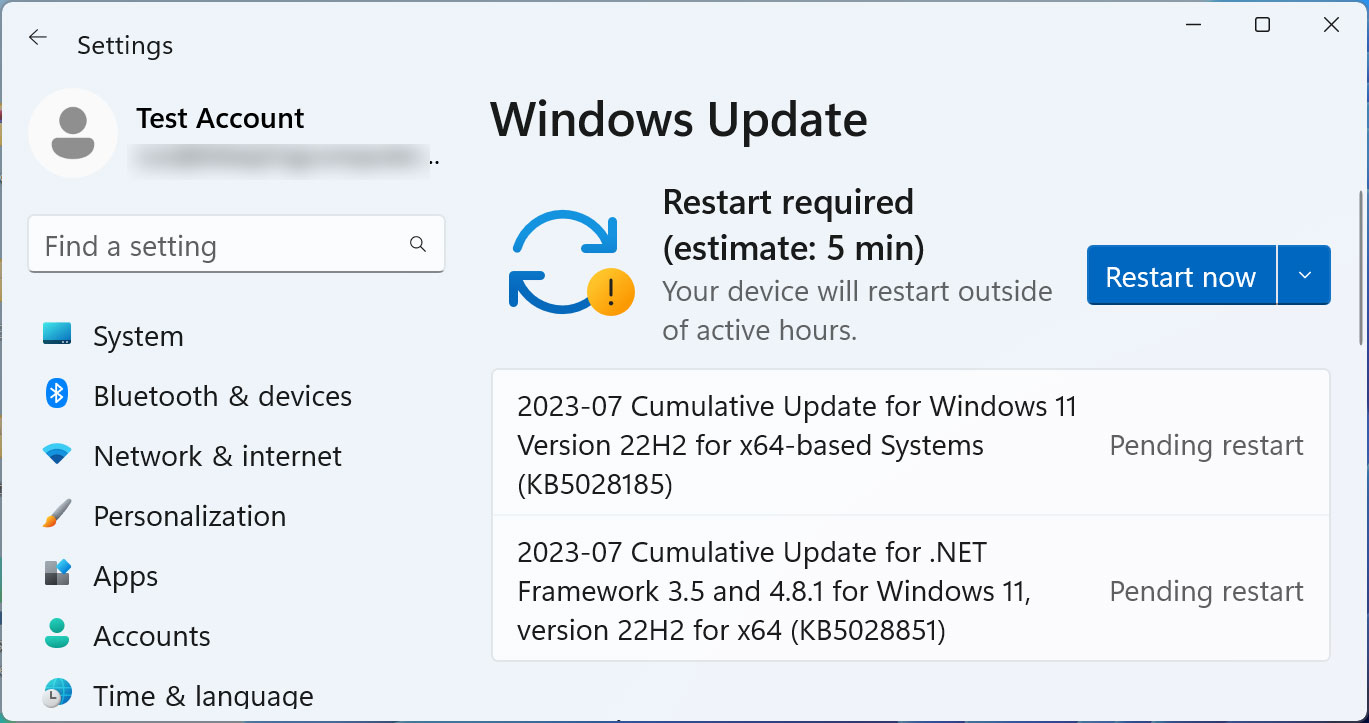 Windows 11 users can also manually download and install the update from the Microsoft Update Catalog.
What's new in Windows 11 KB5028185
Today's Windows 11 KB5028185 update is a great release as it enabled the Moment Update 3 after testing it since May, bringing a host of new features to all Windows 11 users.
These features include a wide variety of features, including:
The ability to copy 2FA codes from app notification toasts.
Access keyboard shortcuts in File Explorer, which are displayed by pressing the "Menu" key on your keyboard.
Live kernel memory dumps are now available in File Explorer, making it easier to debug running processes.
Adaptive Content Brightness Control (CABC) is now available on laptops and 2-in-1 devices.
This update introduces a new Settings page for USB4 hubs and devices.
Now you can see the sensor data under the new Settings > Privacy and Security > Presence detection setting.
The default Print Screen button (PRT SCR/Print Screen) now opens the Snipping Tool by default.
You can now view seconds in the system tray time display.
This update improves your computer's performance when using a mouse that has a high report rate for gaming
A new VPN status icon appears when connected to a VPN.
In addition to Moment 3 features, Microsoft has also made over 30 changes and improvements to fix bugs and increase performance, with a few changes highlighted below:
This update improves sharing a local file in File Explorer with Microsoft Outlook contacts. Now you have the option to quickly email the file to yourself. Also, loading your contacts from Outlook is preferable. This feature is not available for files stored in Microsoft OneDrive folders. OneDrive has its own sharing feature.
This update changes the in-app voice access command help page. Each command now has a description and examples of its variations. The search bar lets you quickly find commands.
This update improves the performance of Search in Settings.
This update addresses an issue that may affect your PC while playing a game. Timeout Detection and Recovery (TDR) errors may occur.
Microsoft is only aware of one long-standing issue for Windows 11 22H2 that has not been resolved in this update, namely provisioning packages not working as expected.
After installing today KB5028185 update, Windows 11 22H2 will change its build number to 22621.1992.
You can review last month Windows 11 Preview Update Bulletin KB5027303 for a full list of changes in this cumulative update.