Microsoft has released optional cumulative update KB5023773 Preview for Windows 10 20H2, Windows 10 21H2, and Windows 10 22H2, with ten fixes for various issues.
This release is primarily a maintenance release, fixing a bug with USB printer drivers, FIDO2, and other issues causing processes to hang, hang, or stop responding.
The Preview of Cumulative Update KB5023773 is part of Microsoft's March 2023 Monthly "C" Update, allowing administrators to test out upcoming fixes released in the April 2023 patch on Tuesday.
Unlike the Patch Tuesday cumulative updates, the "C" preview updates are optional and do not include security updates.
Windows users can install this update by going to Settingsclicking on Windows Update, and manually perform a 'Check for updates.'
Since this is an optional update, you will be asked if you want to install it by clicking on the "Download and Install" link, as shown in the image below.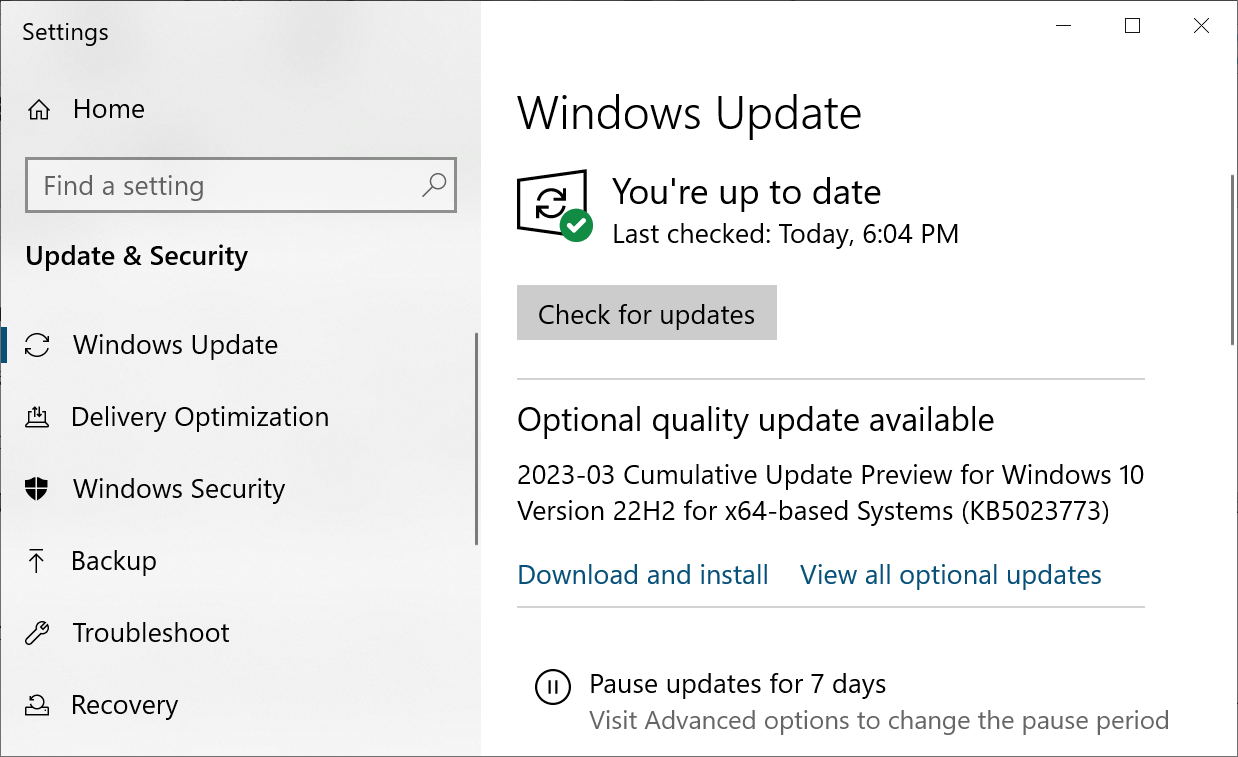 After installing this update, Windows 10 20H2 will be updated to build 19042.2788, Windows 10 21H2 will be updated to build 19044.2788, and Windows 10 22H2 will be updated to build 19045.2788.
Windows 10 users can also manually download and install preview update KB5023773 from the Microsoft Update Catalog.
Microsoft warns that after this March 21 release, there will be no more optional non-security updates for Windows 10 20H2 and 21H2. For Windows 10 users who want to continue receiving preview updates, you should upgrade to Windows 10 10 22H2.
The release notes also shared that optional, non-security preview updates will be now to be published on the fourth Tuesday of the monthwhich makes it easier for administrators to plan their update cycles.
What's new in Windows 10 KB5023773
With this update, Microsoft did not introduce any new features but fixed a total of ten issues in Windows 10.
The fixes highlighted in the KB5023773 update are:
This update fixes an issue that affects USB printers. The system classifies them as media devices even though they are not.

This update resolves an issue that affects the Fast Identity Online 2.0 (FIDO2) PIN credential icon. It does not appear on the credential screen of an external monitor. This happens when this monitor is connected to a closed laptop.
Microsoft warns of two issues with this release, one being a long-standing issue where Windows installations created from offline media or ISOs may have Microsoft Edge Legacy removed and replaced with the new modern Microsoft Edge.
The other issue warns that Kiosk devices with auto-login enabled may not log in automatically. Microsoft says they are working on a fix for an upcoming update.
"After installing updates released on January 10, 2023 and later, kiosk device profiles that have auto-login enabled may not log in automatically. After Autopilot provisioning is complete, Affected devices will remain on the sign-in screen asking for credentials," Microsoft explains. .
You can find a full list of fixes in the Support Bulletin KB5023773.