Microsoft says Windows 10, version 22H2 will be the last feature update to be released for the Windows 10 operating system.
Windows 10 22H2 reached general availability in October 2022 and entered large-scale rollout on November 18, 2022.
It will reach end of service in May 2024 (Home, Pro, Pro Education, and Pro for Workstations editions) and May 2025 (Enterprise, Education, and IoT Enterprise editions).
"The current version, 22H2, will be the final release of Windows 10, and all editions will remain compatible with monthly security updates until then," said Jason Leznek, Senior Product Manager for Windows Servicing and Delivery.
"We strongly encourage you to upgrade to Windows 11 now as there will be no additional Windows 10 feature updates."
Users and organizations who must remain on Windows 10 are encouraged to upgrade their devices to Windows 10 22H2 to continue receiving monthly security updates until October 14, 2025, when Windows 10 Long-Term Servicing Branch (LTSB) reached its end of extended support date.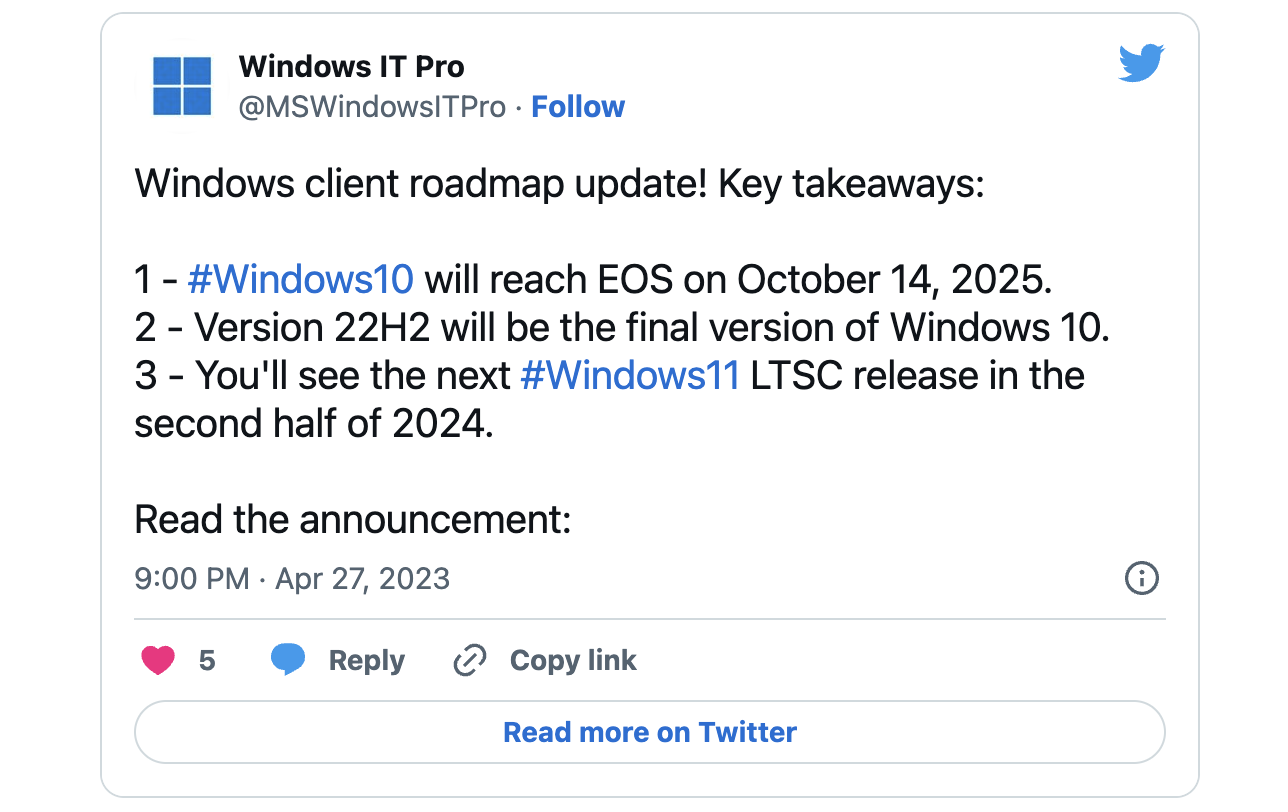 Learn more about Windows LTSC versions
As Microsoft shared in a separate notice released on Thursday, LTSC builds will continue to receive updates beyond October 2025 based on their specific life cycles.
For example, Windows 10 LTSC editions will reach end of mainstream support in January 2027, with the only exception being the IoT Enterprise edition which will be supported until January 2032.
Microsoft also announced the versions of Windows LTSC that will be released in the second half of 2024: Windows 11 Enterprise LTSC and Windows 11 IoT Enterprise LTSC.
"If you're expecting a Windows 11 LTSC release, you can start planning and testing your apps and hardware on the current GA Channel release, Windows 11, build 22H2," Leznek added.
"Check Application Trust: Optimize Application Validation with Test Base for more tips on how to test your apps."