The UK Criminal Records Office (ACRO) has finally confirmed, after weeks of delay in issuing a statement, that the online portal problems experienced since January 17 were the result of what it described as a "cybersecurity incident".
ACRO is the nation's national law enforcement agency responsible for managing criminal records information, providing criminal records upon request, and sharing those records with foreign countries.
Today's confirmation comes after ACRO announcement on March 21, the apps were no longer available through its online portal due to "essential website maintenance".
A day before he warned significant delays in issuing police certificates because applications were taking longer to process due to "heavy demands".
ACRO website is down since at least March 31with a note posted on the website that it is unavailable due to "technical issues".
Users are advised to request police or international child protection certificates via email, with the agency to contact them later for payment.
In a report shared earlier today on Twitterthe agency officially linked last month's website maintenance to a cyber incident.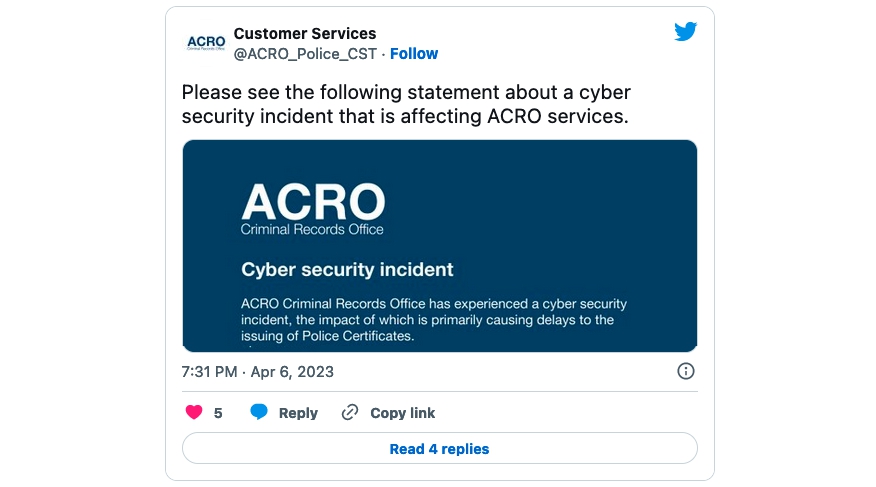 "The ACRO Criminal Records Office experienced a cybersecurity incident, the impact of which is primarily causing delays in issuing police certificates," he said.
"As soon as we became aware of the incident on March 21, we took aggressive action to take the application portal offline so that we could fully investigate. We have sent an email to all potential candidates to have been touched."
The British police body also added that it had not yet found evidence that personal information had been affected. However, according to evening standardhe told affected candidates this week that "identifying information and all criminal conviction data" was affected.
"We are working with the appropriate authorities, including the National Cybersecurity Center, to investigate and remediate the incident. There is currently no conclusive evidence that personal data was affected," ACRO added.
"Our services to police and other agencies, as well as our exchanges of criminal records with foreign countries, are still operational."