Mark your calendar for mWISE™, Mandiant's targeted, community-driven cybersecurity conference. It takes place September 18-20, 2023 in Washington, DC.
The organizers of mWISE, Mandiant's highly anticipated cybersecurity conference, have released the tracks for this year's session.
mWISE is unique in its community orientation. Not only is the conference vendor-neutral – intensely focused on exploring solutions instead of promoting products – but the agenda, speakers and topics emerge from the community as a whole.
After an initial call for speakers, an independent committee reviews the submissions, selecting the most innovative, incisive and relevant. From there, the committee constructs and organizes six thematic tracks.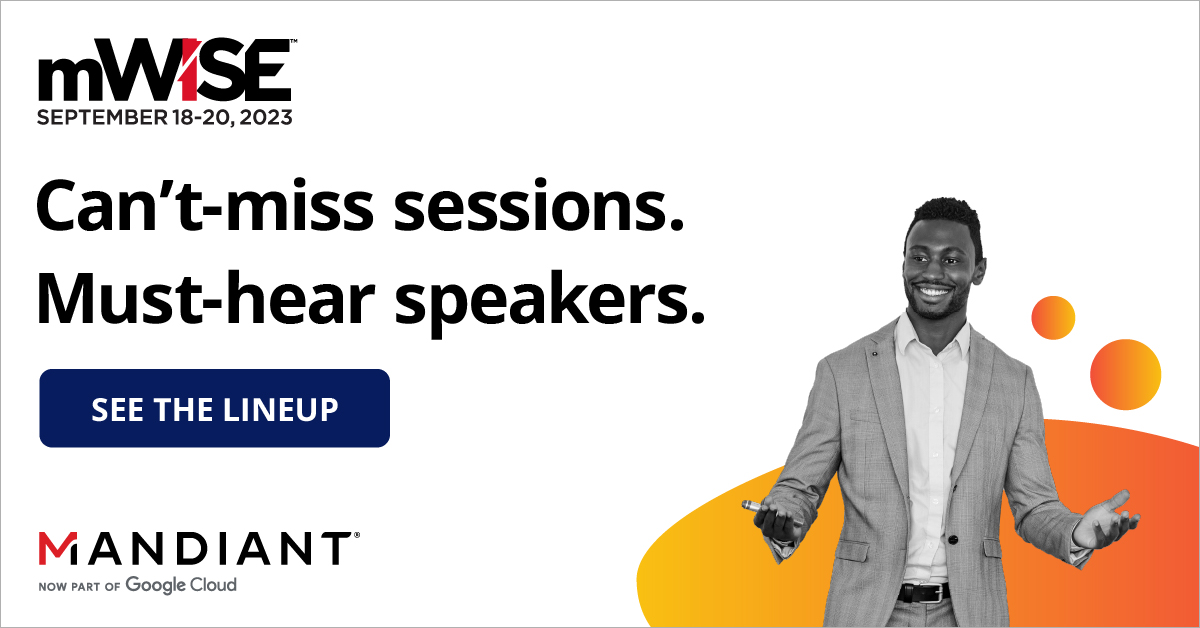 The leads for mWISE 2023 formed as follows:
Cloud Security
Given the growing (and ever-growing) importance of the cloud, cloud security is a priority in cyber. Topics in this track include understanding common risks in cloud infrastructure, assessing your cloud security posture, investigating cloud-centric threat models, and managing/mitigating potential vulnerabilities.

Intelligence
What is the current state of cyber threat intelligence? What recent advances in cyber adversarial group tracking tools, technology, and methodologies should you be aware of? And how can you effectively communicate scan results to minimize your exposure to cyber risk?

Security Engineering
This track focuses on building/maintaining security posture by incorporating security controls into systems to prevent abuse and malicious behavior and maintain policies. Sessions will cover topics such as DevOps, DevSecOps, API Security, Network Design, SASE, Zero Trust Networks, and more.

Security operations
Here, the focus is on organizationally and technically critical security areas. In other words, what people do you need and what processes and technologies are needed to prevent, detect, analyze and respond to cybersecurity incidents?

Security threats and exploits
Discussions in these sessions focus on attacks aimed at disrupting computer networks or systems through unauthorized access, destruction, disclosure, modification of information and/or denial of service. Think intrusion detection/prevention, vulnerability management, ransomware, dark web, and incident response (among other topics).

Third-party and cyber risk management
Sessions in this track focus on the ongoing process of discovering, correcting and preventing security issues and implementing plans to deal with future risks. Topics include Business Impact Analysis, Third-Party Supply Chain, Penetration Testing, Data Control, and more.
A seventh track will feature sponsor case studies and real world examples in a new Expo Breakout on the Expo floor.
How is mWISE different?
mWISE was created as a welcoming, diverse, and vendor-neutral space where top security experts meet face-to-face (and online) to access new information. With first-hand experiences and proven solutions for the latest threats, mWISE offers security practitioners a place where they can lean into learning and achieve new levels of mastery.
At mWISE, public and private sector experts experience a level of connection and collaboration that doesn't happen anywhere else.
The conference takes place September 18-20, 2023 in Washington, DC.
Early bird registration ends July 4.
Only a few days left to get the lowest price available for the conference. If you register now, you will receive a 45% discount on the standard conference rate.
Sponsored and written by Beggar