Nickelodeon has confirmed that data leaked from an alleged breach by the company is legitimate, but some of it appears to be decades old.
Nickelodeon is an American pay television channel owned by Paramount that produces and broadcasts content for children and families.
At the end of June, a rumor emerged regarding a major leak from Nickelodeon's animation department. Evidence of the alleged data leak began circulating on social media, showing a massive 500GB collection of documents and media files.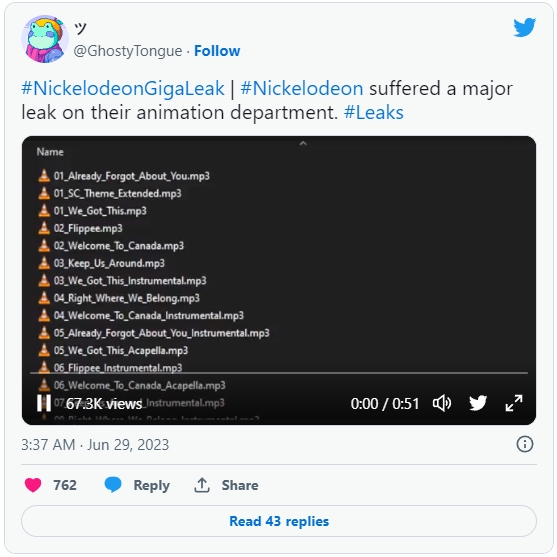 The data breach reportedly took place in January this year and ended with Nickelodeon blocking unauthorized access two months later. However, there is no reliable evidence on this.
According to some sources, all the files were leaked on a private Discord server, and many of them are being reposted elsewhere.
In a statement to BleepingComputer, a Nickelodeon spokesperson said an investigation is ongoing. However, the files do not appear to be the product of a recent breach of their systems.
Additionally, the broadcaster's spokesperson assured that the leaked data does not contain user or employee data and is limited to production resources and other intellectual property.
"We are aware of social media posts that alleged production-related files have been made available without permission, and are investigating," the Nickelodeon spokesperson said.
"The alleged leaked content appears to relate only to production files, not long-form content or employee or user data, and some of it appears to be decades old." – Nickelodeon
It may take some time to analyze the entire data dump, but based on the company's statement, it doesn't appear that Nickelodeon has identified any signs of a true compromise.
Even if the leaked content is proven to be old and not causing significant commercial harm to Nickelodeon, redistribution of copyrighted intellectual property is illegal and those who commit the act may face legal consequences. .