Microsoft is working to address a known issue affecting Outlook for Microsoft 365 customers causing slow startups and crashes as if Outlook Offline Data Files (OST) were synced right after launch.
However, no new OST files are created and no new entries associated with this behavior are added to the Application Event Log, according to Redmond's investigation.
Many customers affected by this issue have also reported that Outlook will open quickly, without delay, if they press Cancel after opening the app.
Microsoft says affected customers may also see that the app will refuse to start on systems where airplane mode is enabled.
In such cases, users will see errors stating "Unable to start Microsoft Outlook. Unable to open the Outlook window. The set of folders cannot be opened. The attempt to connect to Microsoft Exchange failed."
Outlook freezes and very slow startups occur when rebooting the cache, which happens when creating new profiles or disabling shared calendar enhancements.
"A known cause for this symptom is cache reseeding. This is expected if the user has created a new profile or manually switched from REST to MAPI by disabling shared calendar enhancements," Microsoft said.
"However, due to endemic issues reading service-enabled feature state in non-Office MAPI-based applications, running such applications may force this switch unexpectedly."
Workaround available
The Outlook team is currently investigating and working to resolve this issue caused by the application having trouble trying to determine what Microsoft has described as the "default" cache state.
This happens because non-Office MAPI applications such as MFCMAPI and Outlook will come to different conclusions, causing unexpected crashes and slow startups.
A support article posted today states that affected Outlook users can do so by enabling the "Shared Calendar Enhancements" option in the Exchange Account Settings dialog box after clicking More Settings and selecting the "Advanced" tab (the change will be applied after restarting Outlook) .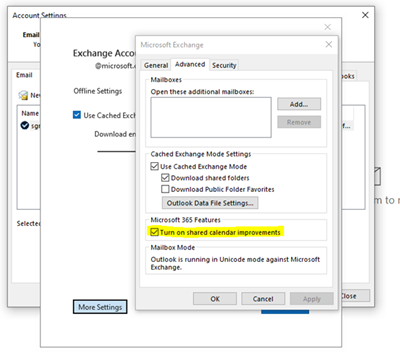 IT administrators can also use a group policy setting to allow Outlook REST calendar sharing updates to work around the issue on affected systems.
In April, Microsoft patched another problem block Outlook for Microsoft 365 clients from accessing their email and calendars.
Redmond also shared temporary fixes for connection problems in October 2022 and a bug causing Outlook freeze and crash right after the launch in August 2022.