Microsoft is investigating an ongoing outage that is preventing OneDrive customers from accessing the cloud file hosting service worldwide, just as a malicious actor known as 'Anonymous Sudan' claims to be DDoSing the service
Users who attempt to open the OneDrive website are currently seeing "Sorry, an error has occurred" and "This page is currently not working" errors.
"We are investigating a potential issue and verifying the impact to your organization. We will provide an update within 30 minutes," the company said. said in an update to its service health page.
"We have reviewed OneDrive telemetry that captures this impact scenario to determine the source of the service access failures and begin to identify a mitigation plan."
Although the company did not provide any details on the cause of the outage, today's incident has been claimed by hacktivists known as Anonymous Sudan, who some say are related in Russia.
They also said they took down a number of Microsoft services earlier this week in Distributed Denial of Service (DDoS) attacks.
"Microsoft, do you think we've forgotten about you? We're motivated to teach you liars a really good lesson in honesty that none of your parents ever taught you," they said on their public group. Telegram.
"Onedrive has been shut down. Now let's see your new excuse."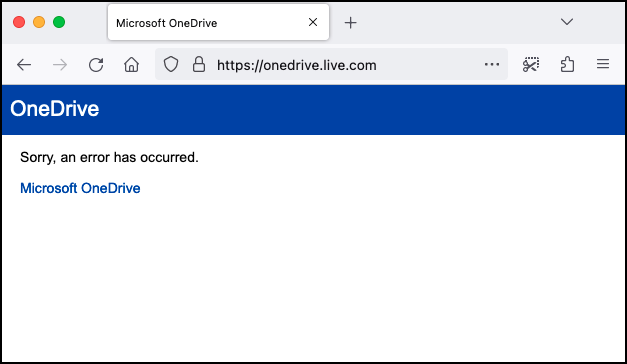 Today's incident follows another long outage earlier this week that impacted multiple Microsoft services and features, including Outlook, SharePoint Online, and OneDrive for Business.
The breakdown started monday evening and was eventually addressed in the early hours of Wednesdayand it was also claimed by Anonymous Sudan to be the result of their DDoS attacks.
Microsoft told BleepingComputer they are investigating the complaints and taking action to protect customers.
"We are aware of these allegations and are investigating. We are taking the necessary steps to protect customers and ensure the stability of our services." Microsoft told BleepingComputer in a statement.
This is a developing story…
Update 6/8/23: Added statement from Microsoft.