Microsoft is testing a new diagnostic tool in Windows 11 that lets you create live kernel memory dumps without disrupting Windows operation.
A dynamic kernel dump is a snapshot of kernel memory at dump time, which is then saved to a file. Developers can then use this file to diagnose operating system bugs and performance issues.
The advantages of this type of core dump are that it is not necessary to take an operating system offline and it can be performed when an operating system is running and the problem occurs.
"With a traditional bug check, the PC reboots and the user's work is interrupted. The purpose of the live kernel dump is to collect data to troubleshoot an abnormal situation, but allow the operating system to continue to work," Microsoft said in a statement. supporting document.
"This reduces downtime compared to a bug check for 'non-fatal' but high-impact crashes and hangs."
Windows 11 gets live kernel dumps
In a new Windows 11 preview build 25176, posted earlier today At the Windows Insider Dev channel, Microsoft has added a new feature that allows you to create live kernel memory dumps in Task Manager.
In the latest version, you can capture a live kernel memory dump (LKD) by going to the Details page of Task Manager, right-clicking the System process, and selecting the "Create a live kernel memory dump file" option.
This will capture a complete live kernel or kernel stack core dumps and can be used to fix bugs and performance issues that Microsoft describes as "abnormal" but does not prevent Windows from running.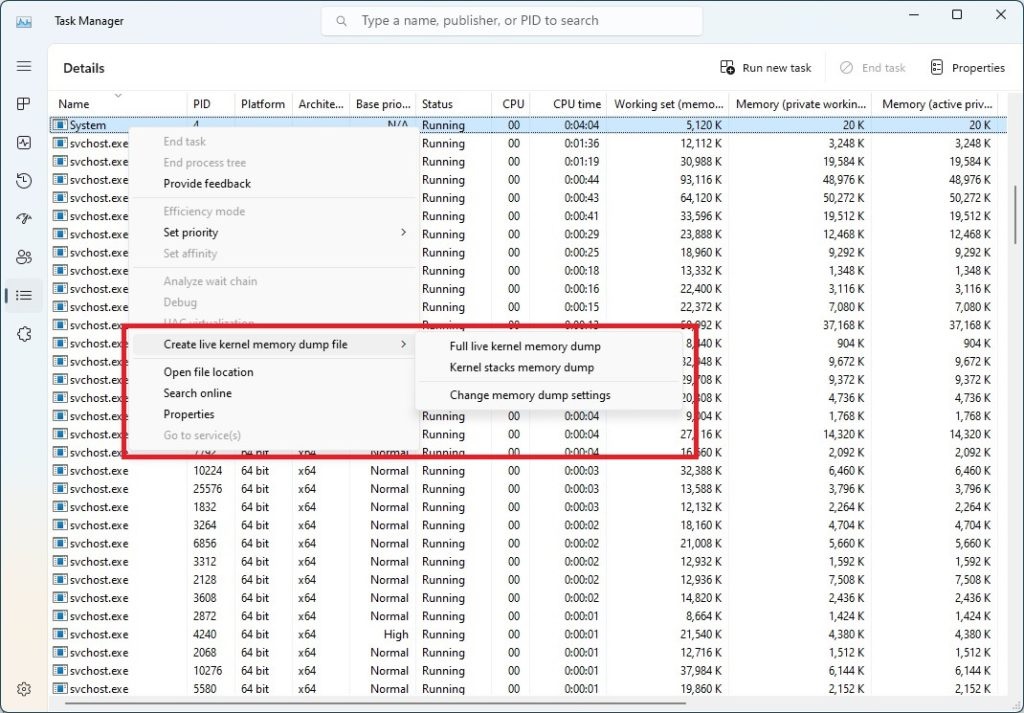 Microsoft says it's rolling out the new feature to select users, so it's not available to all users at this time.
Windows 11's Task Manager has seen frequent updates from Microsoft, with a new design based on Fluent UI and WinUI, and the company has also added a search bar to the app.
Task Manager has also ditched the classic interface for a new hamburger menu layout, and options like "Processes, Performance, Application History, Startup Applications, Users, Details, and Services" have been moved to the new menu. .
It's unclear when those in the retail channel will receive this updated task manager, but it could come sooner rather than later, thanks to "Moments" updates, which bring new features as they become available. .