Microsoft has fixed a known issue that breaks provisioning on Windows 11 22H2 systems and leaves enterprise endpoints partially configured and fails to complete installation.
The problem was first recognized in October 2022, when Redmond stated that using provisioning packages (.PPKG files that help configure endpoints on corporate or school networks without imaging) after installing Windows Update 11 2022 might not work as expected, failing with 0x800700b7 errors.
"Windows may be only partially configured and the Out Of Box experience may not complete or restart unexpectedly," the company said.
"Provisioning packages applied during initial setup are most likely to be affected by this issue."
Windows systems used in home or small business networks and devices provisioned using Windows Autopilot are not affected by this known issue.
Over the weekend, Microsoft updated the entry for the known issue on the Windows version health dashboard to confirm that it has been resolved with the November 2022 preview update KB5020044.
At this time, support document KB5020044 still indicates the status of the issue known to be under investigation.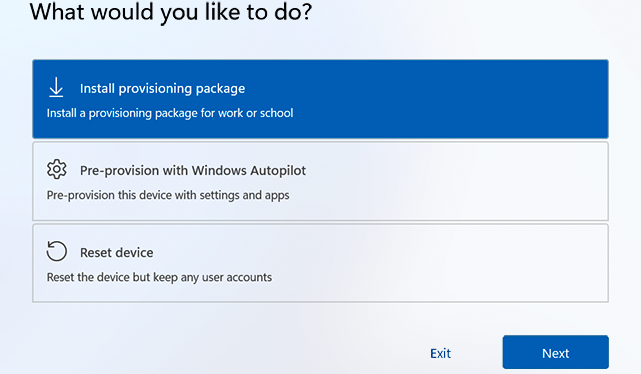 Workaround also available
An interim fix is ​​also available for Windows administrators who cannot immediately or choose not to install the preview update. Redmond suggests provisioning end-user devices before Windows 11 22H2 upgrade to work around provisioning issues.
"If you can provision the Windows device before upgrading to Windows 11, version 22H2, this will avoid the issue," Microsoft said.
Microsoft is also working on fixing a related known issue preventing the installation of applications that require administrator privileges when using .PPKG files.
On Thursday, Redmond also provided temporary mitigation for a separate issue affecting Windows applications using ODBC database connections after installing the November Patch Tuesday updates.
In November, an emergency out-of-band (OOB) update was released to fix domain controller login failures and other authentication issuesand a month later, Microsoft fixed an LSASS memory leak issue causing hangs and restarts on some domain controllers after installing Windows Server November Updates.