Microsoft is testing new Windows Start menu ads, or what it describes as "new treatments," for users logged into local accounts as part of a "badging" extension.
This "feature" was in test since at least November 2022, and some of these "notifications for Microsoft accounts in the Start menu" are already showing to users who installed last month Windows 11 Preview Update or this week's Patch Tuesday security updates.
"We're continuing to explore badges in the Start menu with several new treatments for users signing in with local user accounts to highlight the benefits of signing in with a Microsoft Account (MSA)" said Microsoft's Amanda Langowski and Brandon LeBlanc.
"If you see any of these treatments, let us know your feedback. As a reminder, it's okay that we test different concepts in the Dev Channel for feedback."
The new feature is rolling out with Windows 11 Insider Preview Build 23435 for Insider users in the Dev Channel, designed to help Microsoft try out various concepts and gather user feedback.
It is important to mention that features tested in the Dev Channel may never be released or may be heavily modified once released to general customers.
On systems where the new "badge treatments in the Start menu" are rolled out, ads will appear in the Windows 11 Start menu logout flyout.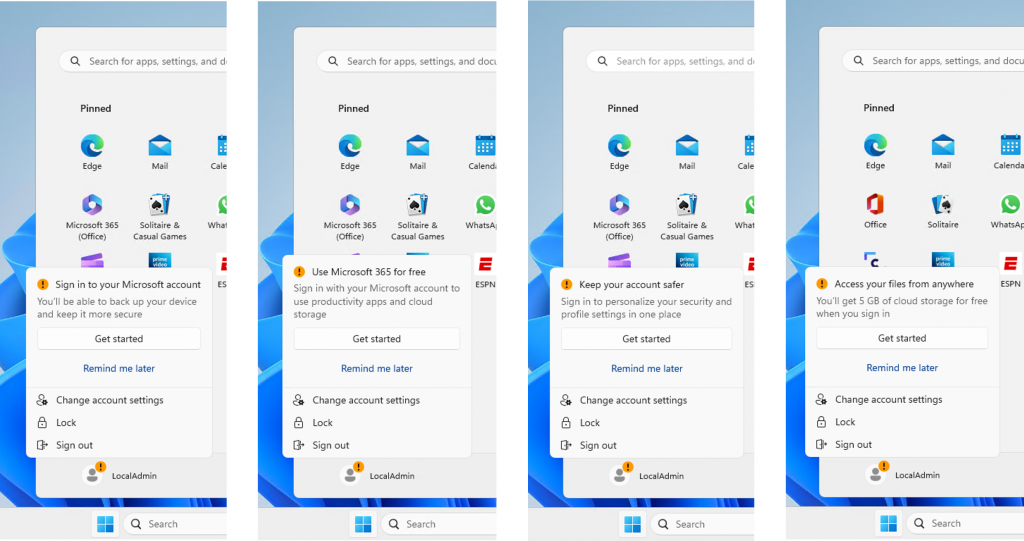 The list of new "processes" tested in this Windows Insider build includes the following prompts:
Sign in to your Microsoft account. You will be able to backup your device and keep it more secure
Use Microsoft 365 for free. Sign in with your Microsoft account to use productivity apps and cloud storage
Protect your account. Log in to customize your security and profile settings in one place
Access your files from anywhere. You will get 5 GB of cloud storage for free when you log in
Microsoft is apparently also working on adding the option to disable Start Menu Ads from the Settings app in Windows 11 (which should have been r
As a Windows enthusiast PhantomOfEarth discoveredan option to "Occasionally show account-related notifications in Start" will soon be available under Personalization > Start.
This is not the first time that Microsoft has promoted its products in the user interface of Windows applications.
As part of an August 2022 campaign, it ran ads for Microsoft 365 Family subscriptions to Office 2021 customers and advertisements for various Microsoft products, including Microsoft Editor, in the File Explorer app in March 2022.
File Explorer had also been injected with OneDrive promotional messages years earlier, in 2016, when the Windows 10 Wordpad app also displayed ads for Microsoft's Free Office Web Apps in 2020.
Microsoft also announced its Microsoft Edge web browser in the Windows 10 Start menu, and it accidentally broke the Windows Taskbar and Start menu when testing Microsoft Teams ads on some Windows Insider builds.