Windows 7 Professional and Enterprise editions will no longer receive Extended Security Updates for Critical and Important vulnerabilities starting Tuesday, January 10, 2023.
Microsoft launched the old operating system in October 2009. It has reached its end of support in January 2015 and its end of extended support in January 2020.
The Extended Security Update (ESU) program was the option of last resort for customers who still needed to run legacy Microsoft products after they ended support on Windows 7 systems.
All editions of Windows 8.1, launched nine years ago in November 2013, will also reach EOS on the same day.
"Most Windows 7 devices will not meet the hardware requirements for upgrading to Windows 11, alternatively compatible Windows 7 PCs can be upgraded to Windows 10 by purchasing and installing a full version of the software", Microsoft Explain.
"Before investing in a Windows 10 upgrade, please consider that Windows 10 will reach its end of support date on October 14, 2025."
Microsoft recommends that customers whose devices do not meet the technical requirements of a newer version of Windows replace them with devices that support Windows 11 to take advantage of the latest hardware features.
Currently, Windows 7 runs on more than 11% of all Windows systems worldwide, while Windows 8.1 is used by 2.59% of Microsoft customers, according to GlobalStats statistics counter.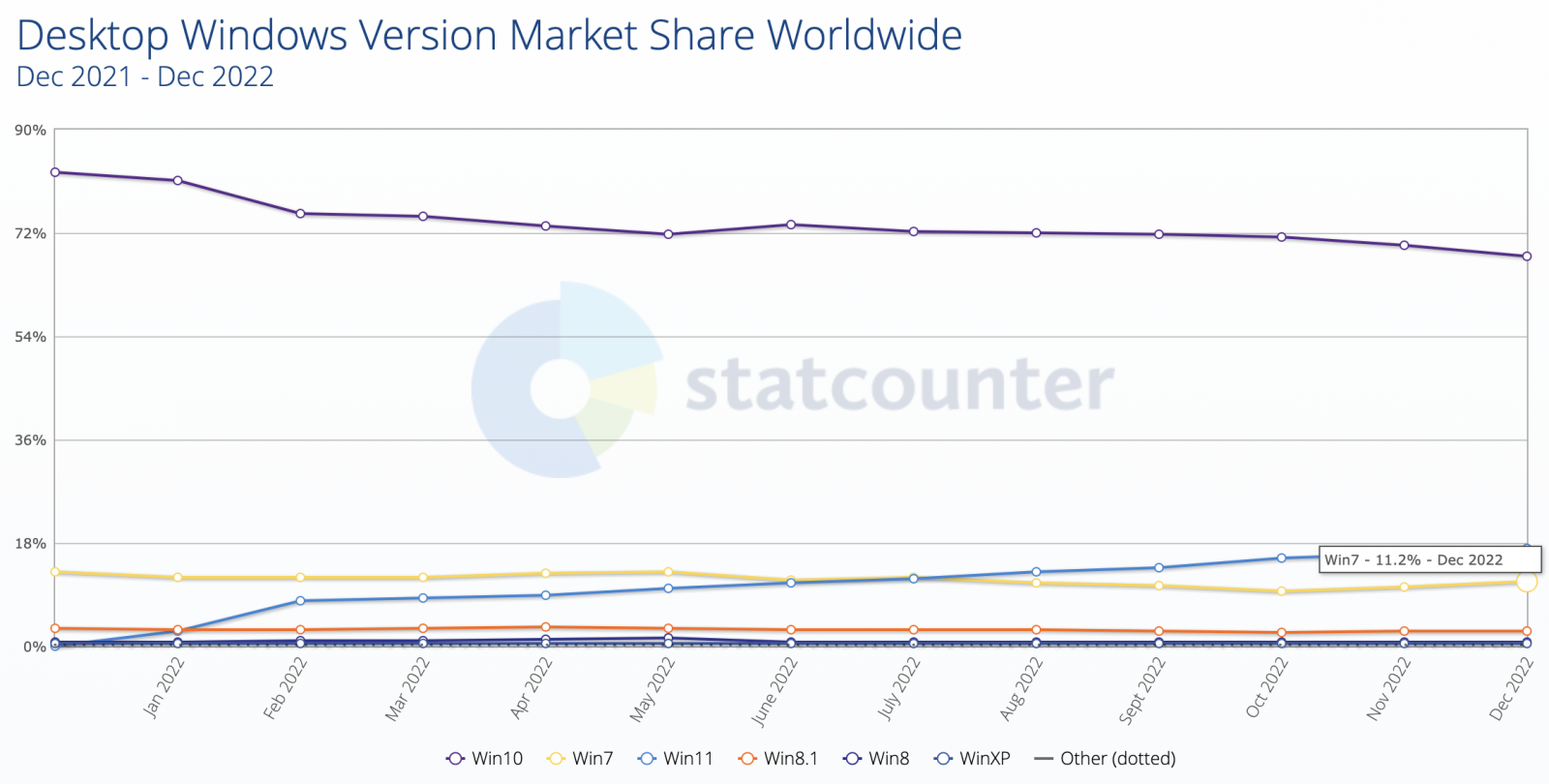 Web browsers are also dropping support for Windows 7
Next week, Redmond will also release Microsoft Edge 109, the latest version of the web browser to support Windows 7 and Windows 8/8.1.
This version of Microsoft Edge will also be the last to support Windows Server 2008 R2, Windows Server 2012, and Windows Server 2012 R2.
A similar announcement was made by Google in October when the company said version 110 of its Google Chrome web browser would also be available. likely dropping support for Windows 7 and 8.1 from February 2023.
Microsoft Edge 109 and Google Chrome 110 will continue to work on legacy operating systems, but they will no longer receive security updates and bug fixes, exposing their users to security risks.
Google Chrome now has a market share of more than 64%followed by Safari with around 18% and Microsoft Edge (which uses Chrome's Blink rendering engine with enhancements from Microsoft) with just over 4%.
Other vendors have already dropped support for Windows 7 before the operating system will stop receiving security updates.
For example, NVIDIA no longer provides Windows 7 and Windows 8.1 drivers since last year, from October 2021.