Windows 10 users are said to be blocked from accessing their desktops by full-screen trial offers for the Microsoft 365 (formerly Office 365) productivity suite.
These offers (titled "Access Granted: We're giving you a free trial of Microsoft 365 Family") are delivered via full-screen notifications that give users no choice but to enter their payment information to activate the trial.
They are displayed during the Windows Out of Box (OOBE) experience before the Windows desktop loads.
The only options available to those viewing these full-screen promotions are "Try it for free" and "No, thanks."
After clicking "No, Thanks", the user is taken to a "Confirm your payment option" screen where the only remaining option is "Start trial, buy later".
Although these screens appear after clean installations of Windows and feature updates, they usually contain an "Ignore for now" option at the bottom left of the screen. However, this time Microsoft has replaced that button with a "Privacy and Cookies" link.
"Windows 10 keeps me from booting to desktop without first being forced to accept their free trial and $100 a month after that (obviously I canceled after that but WTF Microsoft)," a Reddit user who uploaded a video of what is happening said.
"Looks like they accidentally reversed the strings for the no thanks and try buttons. The try button should actually be the no thanks button", someone else intervened.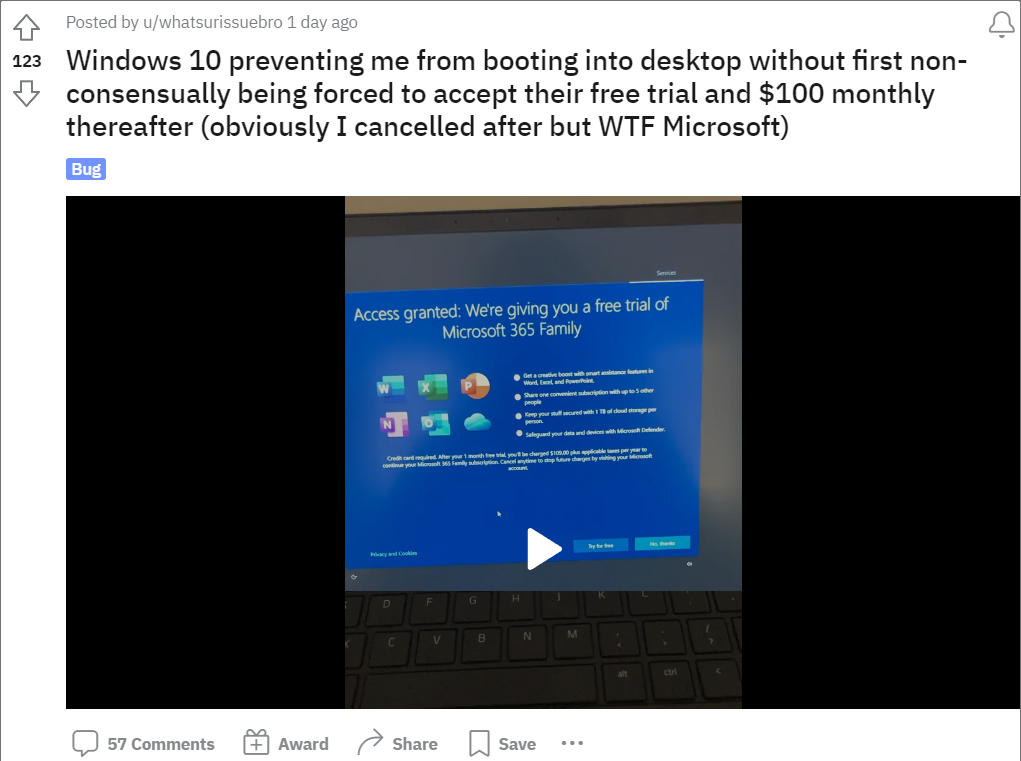 Microsoft seems to be testing other layouts and offering different offerings from other reported seeing 50% off promos with "Next" and "No Thanks" buttons at the bottom.
Similarly, clicking the "No Thanks" button would take them to a new screen where they are prompted to enter their payment information and only have the option to "Buy Now".
"Literally the same thing happened to me last night. I kept wondering why 'no thanks' kept asking me for a card, then I went back and clicked next. Smh ", an user said.
"I updated my laptop yesterday and had the same problem, it took me three tries to figure it out. [redacted] is criminal", another added.
Fortunately, users can cancel after entering the credit card information required to activate the Microsoft 365 Family subscription trial they were required to pay for to access their Windows 10 desktops.
If they choose not to or forget to do so until the trial expires, they will be charged $109 per month as long as the subscription remains active.
"Visit your Microsoft account to turn off recurring billing or to cancel and receive a prorated refund," the payment screen also says.
To avoid receiving this offer, you must start the installation process without an internet connection, which will also allow you to create a local account if you do not wish to link the desktop to your Microsoft account.
While these issues are likely caused by a bug, BleepingComputer has contacted Microsoft to learn more about the changes and will update the story when we receive a response.