Mark your calendars for mWISE™, a global gathering where top security practitioners come together to tackle the industry's biggest challenges. It takes place September 18-20, 2023 in Washington, DC.
In cybersecurity, collaboration has never been more important, even between competitors. Organizations across all industries understand that to combat the increasingly complex threats facing an ever-expanding attack surface, they must join forces, share knowledge, and grow stronger.
Whether you are in government, academia or industry, it is time to come together with your counterparts and be fortified by the power of common intelligence.
"Best security conference I have ever attended." – mWISE 2022 Participant
That's why Mandiant, now part of Google Cloud, convened mWISE – Mandiant Worldwide Information Security Exchange – where the global cybersecurity community comes together to share unique knowledge to strengthen defenses.
At mWISE, public and private sector experts experience a level of connection and collaboration not found elsewhere. mWISE also hosts an annual CISO Summit, an invitation-only, closed-door event for global CISOs to discuss critical issues and learn from each other's experience.
"Excellent experience which provided many opportunities to learn and connect with others." – mWISE 2022 Participant
At mWISE, the focus is not on suppliers, products or sales. It's community. mWISE was created as a welcoming, diverse, and vendor-neutral space where top security experts meet face-to-face (and online) to access new information.
With first-hand experiences and proven solutions for the latest threats, mWISE offers security practitioners a place where they can lean into learning and achieve new levels of mastery.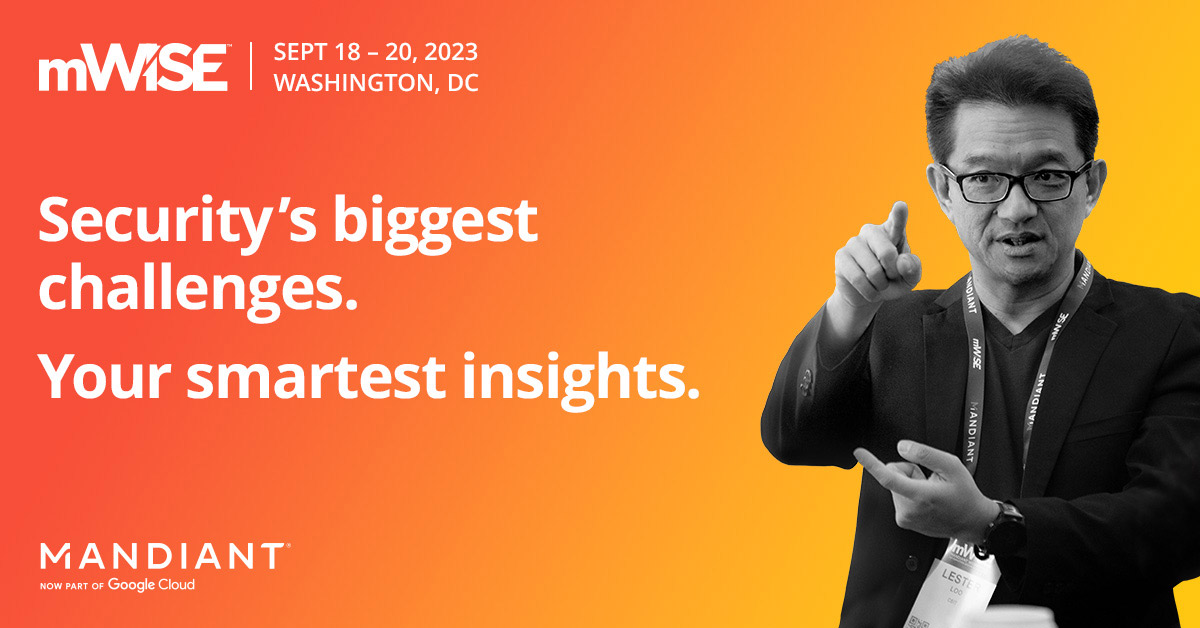 What makes mWISE unique?
The focus is on unique insights, and not just any, but those that are most relevant to practitioners right now.

The focus is on sharing, not selling. mWISE promotes intensive knowledge exchange without a commercial agenda.

The perspective comes from the front lines, with candid discussions of first-hand experiences.

There is a strong commitment to building a collective response to new threats.

Inclusiveness is a priority. mWISE welcomes voices and perspectives from across the cybersecurity community.
Now Open: Call for Speakers 2023
mWISE encourages practitioners from all areas of cybersecurity to contribute their thought-provoking perspective on important topics.
They invite you to speak up and share your expertise with thousands of expected attendees, in person and online. Submissions to speak are due May 12. Be a speaker >
New this year: nominate a speaker
In 2022, the keynote stage was free from vendor influence. Now mWISE organizers are taking it a step further by asking the community for keynote and speaker ideas.
Think of government officials, intelligence experts, and what they call "brain candy," meaning anything that challenges thought, inspires creativity, and/or nurtures mental health.
This is your chance to help shape the conference and inspire the community with the topics most relevant to you. Submit your ideas >
Registration for mWISE opens in May. You can stay up to date with conference news on the mWISE website.
A summary and reading lists from last year's conference are available here on YouTube.
Sponsored and written by Beggar