Dutch police send emails to former RaidForums members, asking them to delete stolen data and stop illegal cyber activities and warning them that they are not anonymous.
RaidForums was a very popular and notorious hacking and data leak forum known for hosting, leaking and selling stolen data obtained from hacked organizations.
Threat actors who frequented the forum could hack into websites or access exposed database servers to steal customer information. Threat actors would then attempt to sell the data to other threat actors, who use it for their campaigns, such as phishing attacks, cryptocurrency scams, or malware distribution.
In many cases, if the data was not sold or a certain amount of time had passed, the stolen data would be leaked on RaidForums for free to gain reputation with the community.
In April 2022, the RaidForums website and infrastructure seized in an international law enforcement operation, with the site administrator, Omnipotent, and two arrested accomplices.
Dutch police send warnings to RaidForums members
Yesterday the Dutch national police (Politie) announcement that they have sent thousands of emails, hundreds of letters and made stop calls to RaidForums members warning them that their actions are illegal and that they are being watched by law enforcement.
These members were identified by analyzing RaidForums' seized forum database, which allegedly contains members' email addresses, registration IP addresses, and IP addresses used when posting and downloading files from the site. .
This data can then be used to identify members, what country they are in and their involvement with the site.
Politie says analysis of this data has already led to the arrest of three people who extorted companies by threatening to release stolen data if a ransom was not paid.
The emails sent were titled "Politiewaarschuwing aan Raidforums gebruikers", which translates to "Police warning to Raidforums users".
In a screenshot of the email shared with Tweakers.netDutch police are asking RaidForums members to delete any stolen or swapped data they have uploaded, warning that "you are less anonymous online than you think".
The automatically translated email can be read below in English:
"The Dutch police and international police organizations have launched an investigation into the Raidforums.com website. This has led to the police taking the website offline and obtaining a dataset containing data from users of the platform As a result of this investigation, several people were arrested (see QR code).
Investigation has shown that you are linked to a Raidforums user account and are active in groups where leaked data is exchanged. Possession of this is a criminal offence. The police are aware that Raidforums has been used to exchange leaked data such as pornographic material, personal data and/or account data. Raidforums have also been used to acquire knowledge for the development of cyber skills that are closely related to the commission of serious crimes of cybercrime.
The Dutch police are urging you to stop participating in online activities, such as exchanging leaked data. You run the risk of breaking the law. Delete pirated software or datasets obtained from Raidforums or other similar sites. Engaging in or continuing cybercriminal activities may result in further action against you. Illegal activities on Raidforums.com (or similar websites) may result in:
• Conviction: You will be sentenced to a fine, community service or imprisonment
• Criminal record: You will get a criminal record. This makes it more difficult to find an internship or a job, but also to travel abroad.
• Confiscation: You lose your computer, phone or other electronic devices.
The police act firmly against cybercrime, whatever its form. You are less anonymous online than you think. Do you still choose to commit cyber crimes? So be aware of the consequences. Prevent the police from showing up at your door. Think about your future and don't commit cybercrime."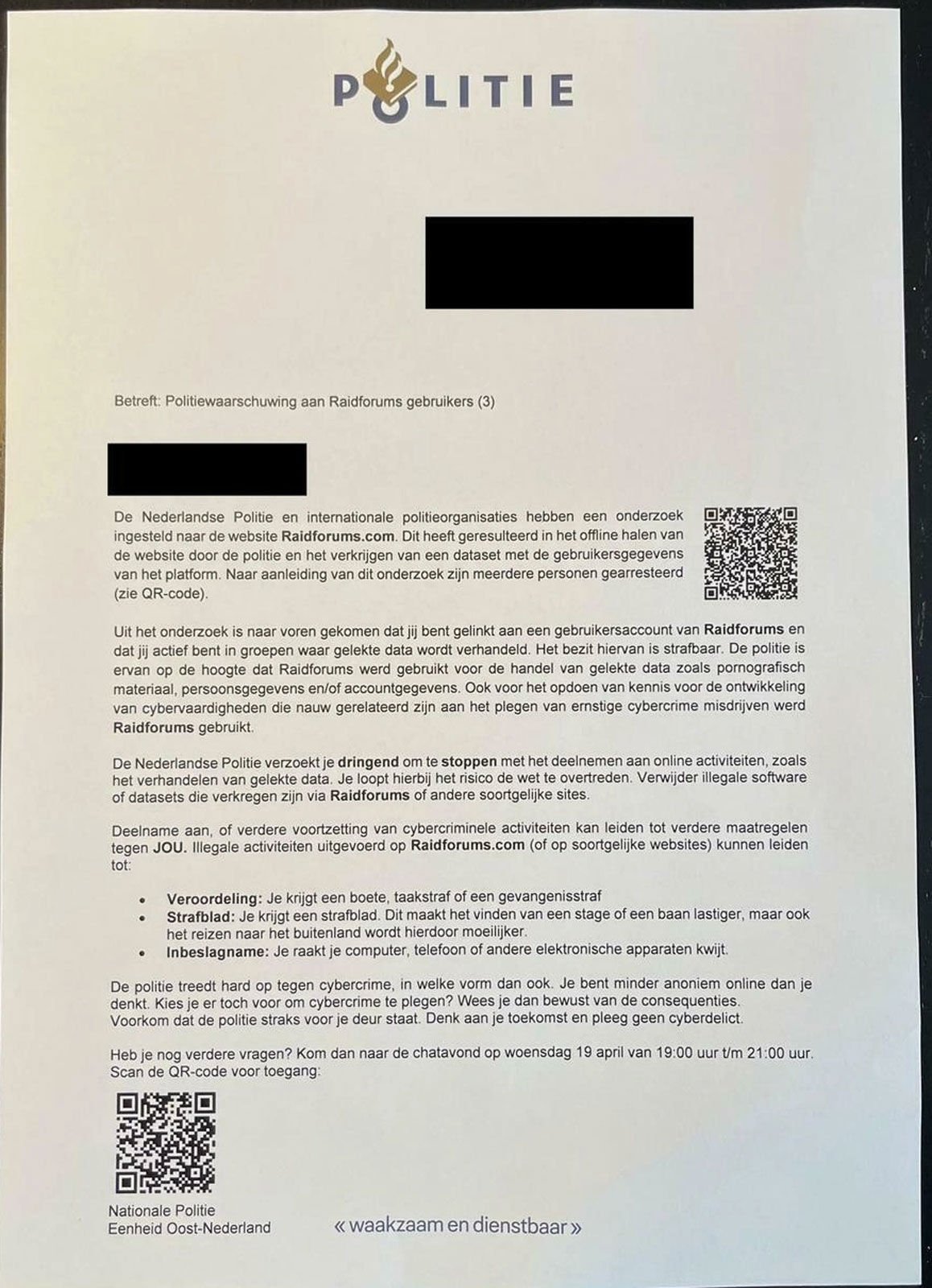 Politie told BleepingComputer that in addition to sending emails and letters, Dutch police have made "arrest calls" with minors involved in RaidForums.
BleepingComputer has been informed that during these calls, minors and their parents receive information on the possible consequences of cybercrime.
"Such a conversation is more effective than a letter for this target group," Politie told BleepingComputer.
Many members of these data leak communities are minors drawn to the fun of hacking networks and websites and being able to share their activities with a community of like-minded peers.
In 2021, the The Dutch police have published messages on Russian and English-speaking hacker forums, including RaidForums and XSS, warning that law enforcement is monitoring their activity.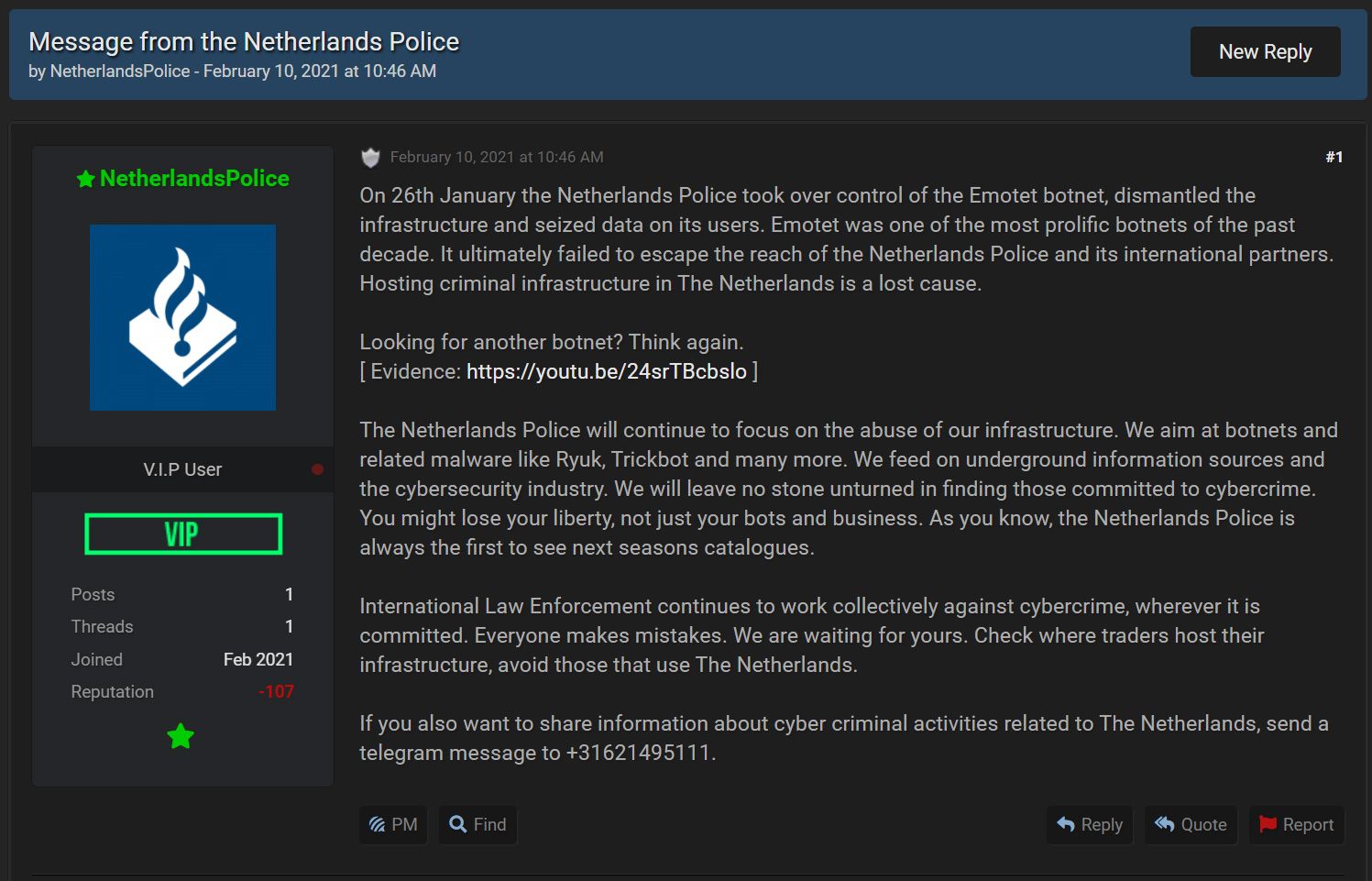 The Dutch police have also created an awareness program called game changers to deter young people from getting involved in cybercrime and turning instead to a white hat career.
The UK's National Crime Agency (NCA) has a similar program known as Cyber-choice which aims to prevent young people from becoming involved in cybercrime.