Microsoft has released the optional cumulative update KB5025297 Preview for Windows 10 22H2, with eighteen fixes or changes.
Although this release is primarily a maintenance release, it includes new Windows Firewall functionality and the ability to sync your region and language settings with your Microsoft account.
Cumulative Update KB5025297 Preview is part of Microsoft's optional non-security updates released on Tuesday of the fourth week of a month.
Today's updates are the first released as part of the new schedule announced last month that replaces previous preview updates to the "C" and "D" schedules.
Unlike Patch Tuesday, today's updates are optional as they do not include security updates.
Windows users can install this update by going to Settingsclicking on Windows Update, and manually perform a 'Check for updates.'
Since this is an optional update, you will be asked if you want to install it by clicking on the "Download and Install" link, as shown in the image below.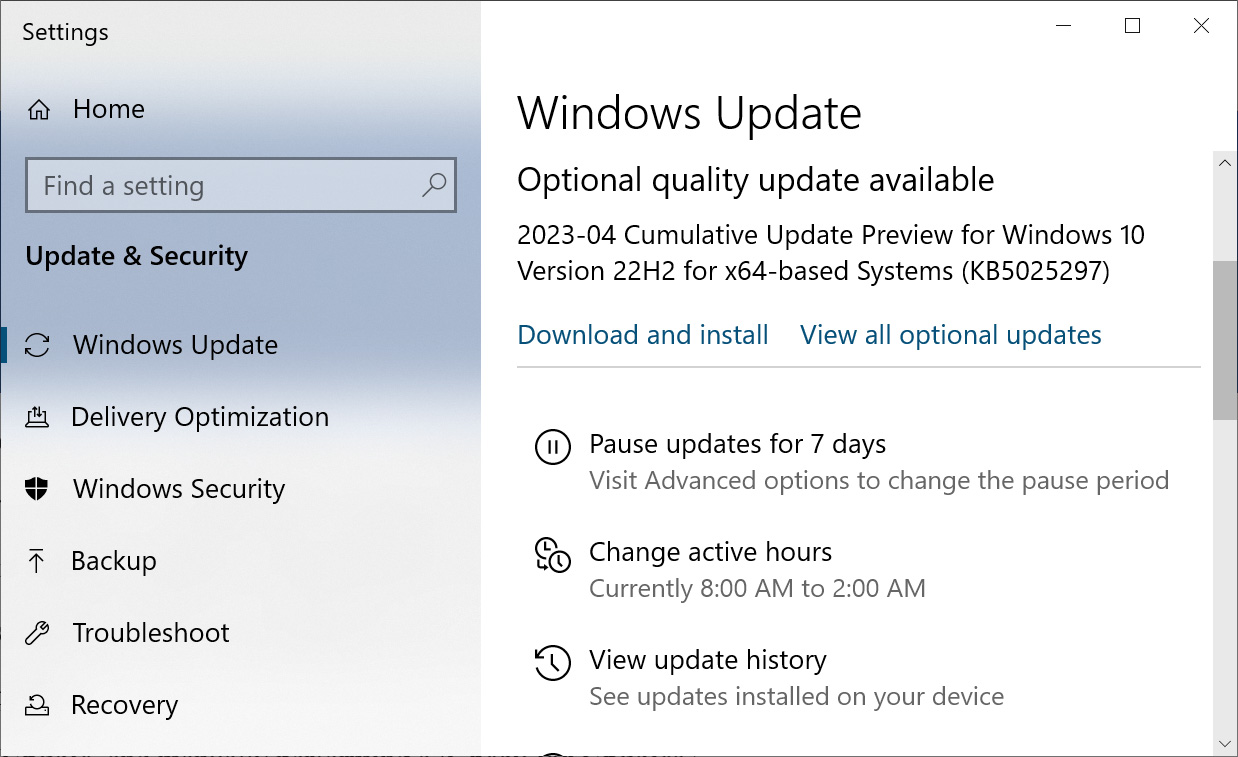 After installing this update, Windows 10 22H2 will be updated to build 19045.2913.
Windows 10 users can also manually download and install preview update KB5025297 from the Microsoft Update Catalog.
What's new in Windows 10 KB5025297
With this update, Microsoft introduced two new features, including a new Application Group Rules feature in Windows Firewall and the ability to sync language and region settings with your Microsoft account.
Update KB5025297 also includes a total of eighteen changes, with the highlights listed below:
New! This update modifies firewall settings. You can now configure application group rules.

New! This update adds the ability to synchronize language and region settings when you change the display language or regional format of your Microsoft account. Windows will save these settings to your account if you have enabled language preference synchronization in your Windows Backup settings.

This update fixes an issue that affects Microsoft Edge IE mode. Pop-up windows open in the background rather than in the foreground.

This update fixes an issue that affects IE Edge Mode. The tab window manager becomes unresponsive.

This update changes application icons for some mobile carriers.

This update fixes an issue that affects the Chinese input method. You may not see all of the first suggested items.

This update affects Xbox Elite users who have the Xbox Adaptive Controller. This update applies your controller remapping preferences to the desktop.

This update addresses an issue that may affect News and Interests. It may flicker in the taskbar and File Explorer may become unresponsive.
Microsoft is warning of a known issue with this release, a long-standing issue where Windows installations created from offline media or ISOs may have Microsoft Edge Legacy removed and replaced with the new Microsoft Edge Modern.
You can find a full list of fixes in the Support Bulletin KB5025297.