Rogers customers, primarily those located in Downtown Toronto and parts of Ontario, are reporting outages this week affecting their internet service.
Some report being without internet for days, while others are experiencing intermittent disruptions and slowdowns when using their internet. Rogers has not formally acknowledged the issues on their service interruptions page.
Rogers Communications is among the major three internet service providers (ISPs) in Canada, alongside Bell and Telus. The multi-billion dollar conglomerate employs 22,000 people and operates across most Canadian provinces.
Rogers customers report internet problems
Rogers customers took to X (formerly Twitter) to voice their concerns about internet outages in their area.
"Thank you Rogers for the outage. Was so tired [working from home]. But all thanks to you I can go to office now which is only 45 kms away," posted Niraj Sharma this Tuesday, mentioning "#Toronto." 
"Specially [sic] when there is heat warning in the city. Also thanks in advance for your $ 5 credit which will be [on the way am] sure."
Others reported outages spanning 72 hours in their area at the start of the week:

Rogers advised the customer to reach out to their social media support account via direct messaging (DM).
"Anyone else Rogers Internet down?" asked Toronto-based entrepreneur Raymond Wali on Monday.
Today, Ottawa-based internet customer Megan Ion explicitly asked Rogers if there were any network issues in the Kanata, Ontario area. The company replied affirmatively but stated that no further details were available at this time.
Reports of internet outages also surfaced this week from customers across Cambridge (Ontario), Guelph (Ontario), Barrhaven (Ottawa), parts of Toronto (Ontario) [1, 2], among other regions.
Downdetector reports and user comments suggest that the connectively issues primarily impact Ontario residents.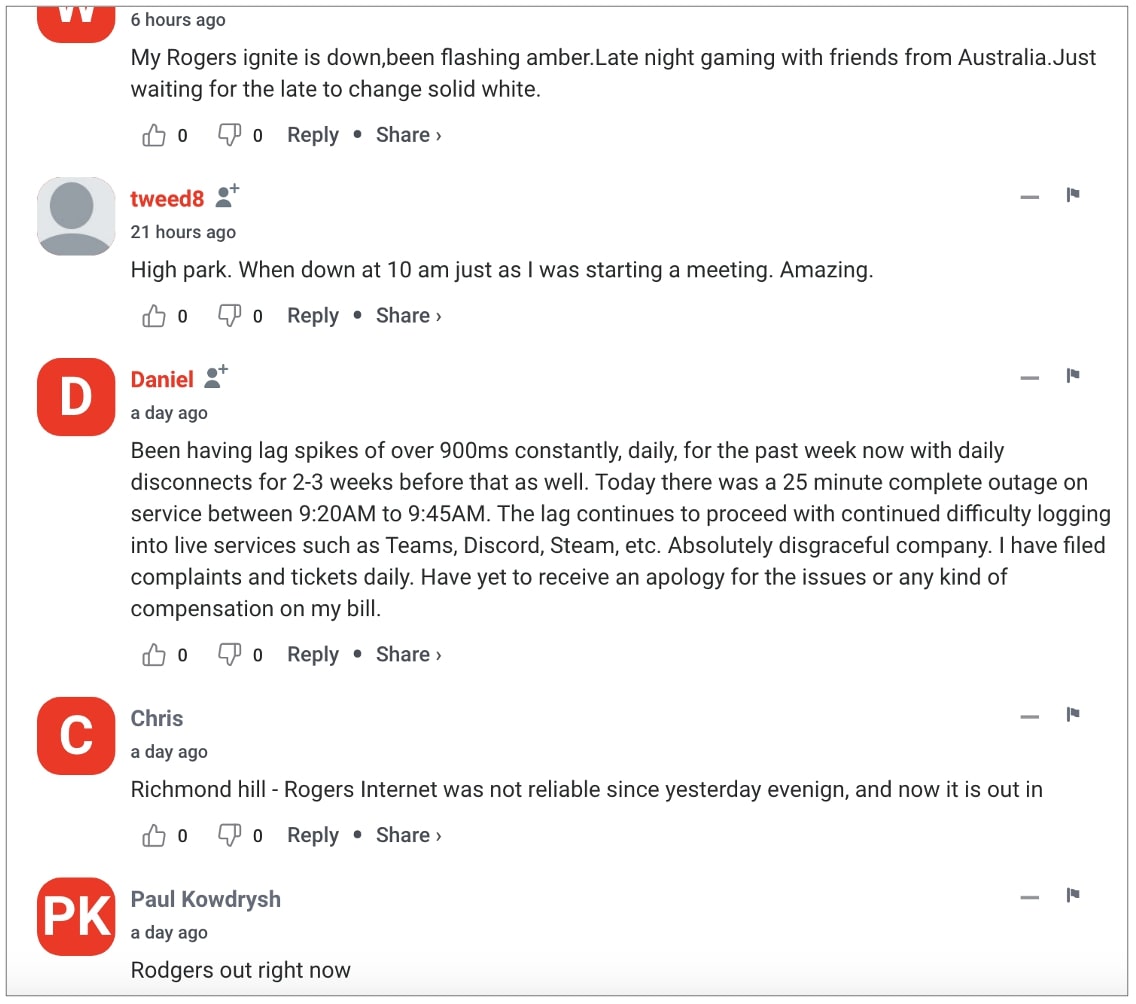 Customers demand answers
Some have taken to social media to vent their frustration and urged the company to be more open about disclosing network issues, like outages, to customers.
"I heard from other source today that Rogers was experiencing issues. It's mostly been on and off. Right now working. It [sic] bit slow," posted an Ontario-based customer yesterday.
"Why is Rogers not communicating with outages or network issues directly to X app so we are up to date. It's not just me. It's many areas apparently."
Rogers does maintain a service interruptions page on its community forums that is supposed to inform customers of any network problems. At the time of writing, however, the page states "nothing to report at this time" under Active Outages.
Other customers complained of a measly $10 "compensation" offered by Rogers post hours-long internet disruptions that caused them to spend significant times on customer service phone calls.
You know you have a problem with your customer support when you have to add this disclaimer to your support chat. @Rogers My internet is down, again. I have both Bell and Rogers internet, and even though Rogers is faster, it is most definitely less reliable. pic.twitter.com/HuUWhQMZFG

— Aaron Campus (@blinkmm) September 5, 2023
Last year's nationwide Rogers Wireless outage disrupted payment card transactions and 911 emergency services. Rogers later determined the cause of the outage to be a maintenance update.
BleepingComputer has approached Rogers for comment prior to publishing.