Update 6/9/23 1:33 PM ET added below
The Microsoft Azure portal is down on the web as a malicious actor known as Anonymous Suda claims to target the site with a DDoS attack.
Attempt to access the portal at https://portal.azure.com displays an error message stating: "Our services are currently unavailable. We are working to restore all services as soon as possible. Please check back soon." The mobile application does not seem to be affected at this time.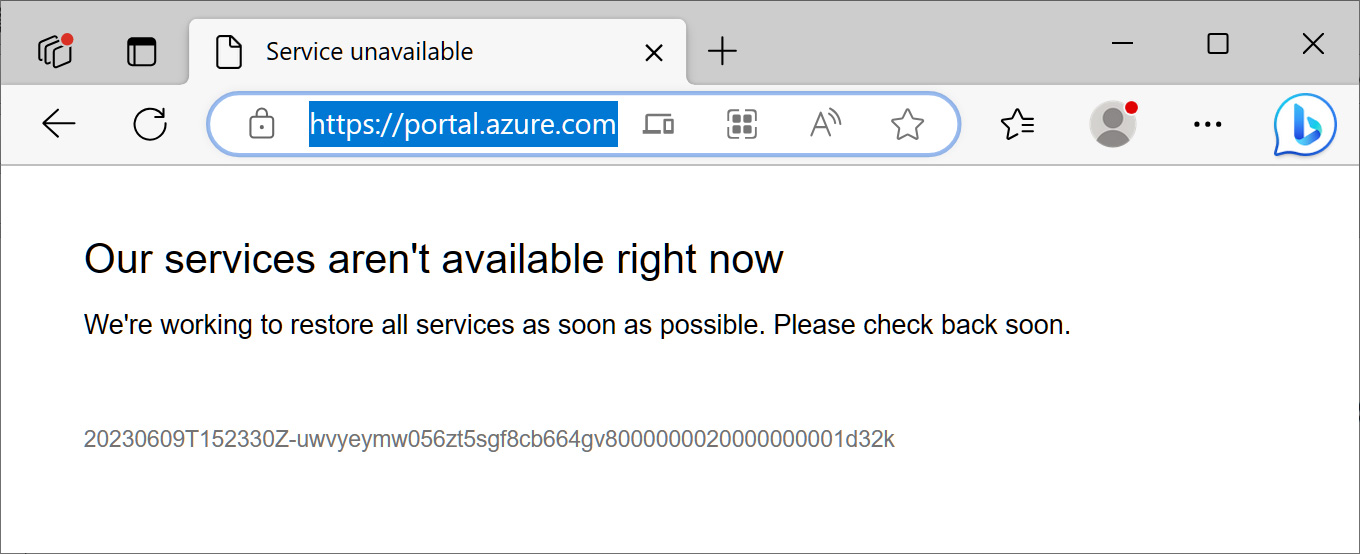 THE Microsoft Azure Status Page includes status information indicating that Microsoft is aware of the problem and is trying to mitigate it.
"Azure Portal – Errors Accessing Azure Portal – Applying Mitigation
Impact Statement: Beginning approximately 3:00 PM UTC on June 9, 2023, Azure customers may receive error notifications when attempting to access the Azure portal (portal.azure.com).
Current Status: We have determined a potential root cause and are actively engaged in various workflows applying load balancing processes to mitigate the issue. The next update will be provided within 60 minutes or depending on the event.
This post was last updated at 4:35 PM UTC on June 09, 2023″
Meanwhile, a malicious actor known as Anonymous Sudan claims to be carrying out a DDoS attack against the Microsoft Azure portal, sharing an image of the non-working page.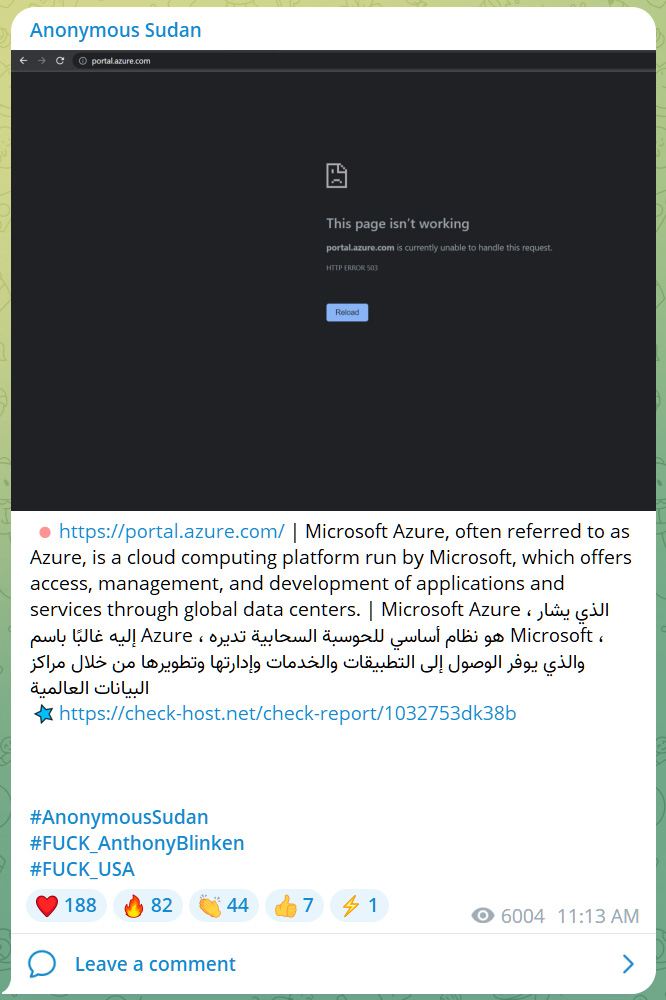 Anonymous Sudan claims to be a hacktivist targeting US companies to protest US involvement in Sudanese internal affairs. However, some believe it is a false flag and that the threat actors are actually Russians.
Regardless of the threat actor's origins, it hasn't been a good week for Microsoft, with the threat actor carrying out DDoS attacks on other Microsoft web portals for Outlook.com And OneDrivewhich also suffered breakdowns at the same time.
Although Microsoft has not confirmed that these outages were due to DDoS attacks, they shared the following statement with BleepingComputer yesterday, hinting that the issues are more than just a technical issue.
"We are aware of these allegations and are investigating. We are taking the necessary steps to protect customers and ensure the stability of our services," Microsoft told BleepingComputer in a statement.
BleepingComputer contacted Microsoft again to ask if services are down due to a DDoS attack, but a response was not immediately available.
Update 6/9/23 1:32 PM ET: The Azure portal appears to be operational and stable again.
Microsoft still hasn't disclosed the underlying cause of the outage, saying only that they've applied more load balancing processes to the service.