Microsoft is investigating a known issue causing significant delays for Microsoft 365 customers when saving attachments in Outlook Desktop to a network share.
This bug is known to affect Outlook Desktop when configured to save attachments to a network path.
Users experiencing this issue will see an "Attempting to Connect" dialog displayed for several minutes before the "Save As" dialog finally loads.
The problem is confirmed in M365 applications, specifically starting with Current Channel version 2304 (build 16327.20214) and Monthly Enterprise Channel version 2304 (build 16327.20324).
Microsoft fixed a similar bug affecting Office suite applications (i.e. Word, Excel and PowerPoint) in February when the company acknowledged that the issue also impacted saving email attachments to a network share.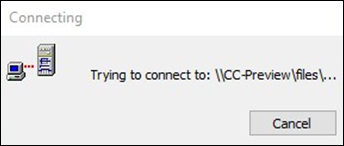 While the Outlook, Office, and Windows teams are still investigating the issue and working on a fix, Redmond has provided an interim fix for affected users.
To work around this known issue, you must downgrade M365 applications and configure the Windows WebClient service to no longer start on login.
To do this, you will need to go through the following steps:
Open services.msc from Execute (Win + R).
Find it web client service and open its properties.
Stop the service and change the Start type For Disabled.
Friday, Microsoft also provided a workaround for a bug causing Outlook Desktop to block FQDN (fully qualified domain name) or IP address hyperlinks from opening after installing the July 2023 security updates.
However, the company warns that applying the workaround could increase the attack surface on affected systems, exposing users and their data to attacks.
In June, Redmond shared another interim fix for an issue affecting Outlook for Microsoft 365 clients, triggering slow startups and freezes.