Microsoft says the latest preview build of Windows 11 improves update management for IT admins and fixes several issues leading to app crashes.
The goal of the update improvements in this release is to help administrators make system restarts after installing Windows Updates more predictable.
"Ensuring a consistent and predictable schedule of Windows Update restarts is a key part of a successful update strategy," said Microsoft's Amanda Langowski and Brandon LeBlanc.
To achieve this goal, Microsoft has made several changes to Update Stack Orchestrator, including allowing administrators to manually set the number of days before feature and quality updates are automatically installed.
Windows updates are downloaded and installed without custom reboot delays as soon as they are offered, but device reboots will only occur outside of active hours.
Once the deadline is reached, the system will be restarted automatically to complete the installation process regardless of the active hours setting, and the user will not be able to reschedule the update.
However, administrators can also set a grace period to ensure that users can still manage reboot time after updates are deployed. During this grace period, Windows may still restart outside of active hours if system restarts are not rescheduled.
Microsoft has added two new Group Policy settings to manage system restarts after updates:
Specify delays for automatic updates and restarts for quality updates
Specify delays for automatic updates and restarts for feature updates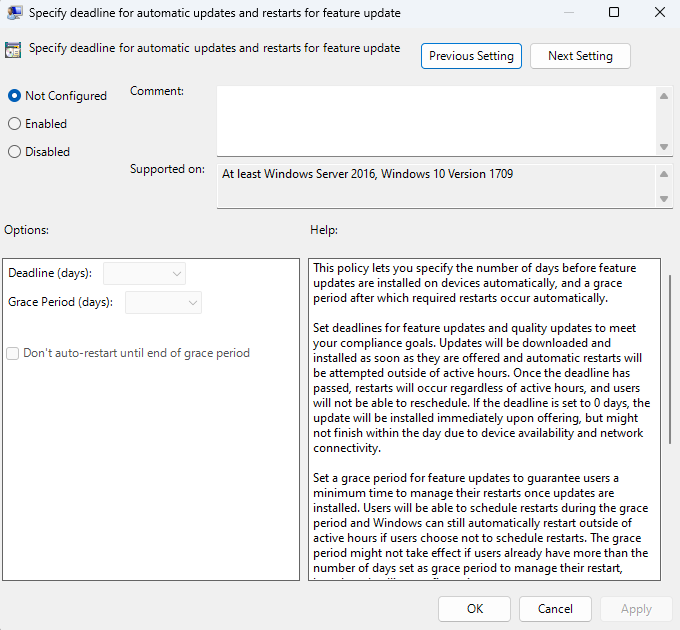 These improvements are rolling out to Windows Insiders in the Dev Channel, who have installed Windows 11 Insider Preview Build 25227.
The latest version also fixes several app crashes
The new Windows 11 development version also fixes issues triggering crashes and affecting several apps, including File Explorer, Start Menu, and Game Services.
The full list of crash fixes includes the following:
Fixed an issue causing explorer.exe to crash when switching between applications on the tablet-optimized taskbar.
Fixed an issue that caused explorer.exe to crash when dragging icons to the system tray.
Fixed an issue where dragging content into an open Start Menu folder could cause a crash.
Fixed a few issues causing some apps to crash in recent versions, including OneNote. We continue to review comments in this space.
If you were experiencing Game Services crashes while trying to play certain games in the latest Dev Channel flight, please check the Microsoft Store for Game Services updates. It should be resolved now.
Redmond is also investigating user reports of crashes affecting several other apps and games in recent Windows Insider builds.