Microsoft has addressed a known issue causing File Explorer on Windows 11 and Windows Server systems after viewing a file's effective access permissions.
When users of the affected devices click the "View Effective Access" button under Properties > Advanced to check the effective permissions of a shared file or folder, they may see a message stating "Calculation of effective access …." without displaying the results of the query.
Also, the explorer.exe process will continue to use CPU resources even after closing the advanced security settings dialog, which will cause file explorer to crash.
It is important to note that this issue is primarily seen in non-consumer environments and is unlikely to affect people using Windows devices at home.
The known issue affects systems running the latest versions of Windows, including Windows 11 21H2/22H2 and Windows Server 2022. According to Microsoft, users will experience Explorer crashes after installing Windows updates released since May 9, 2023 .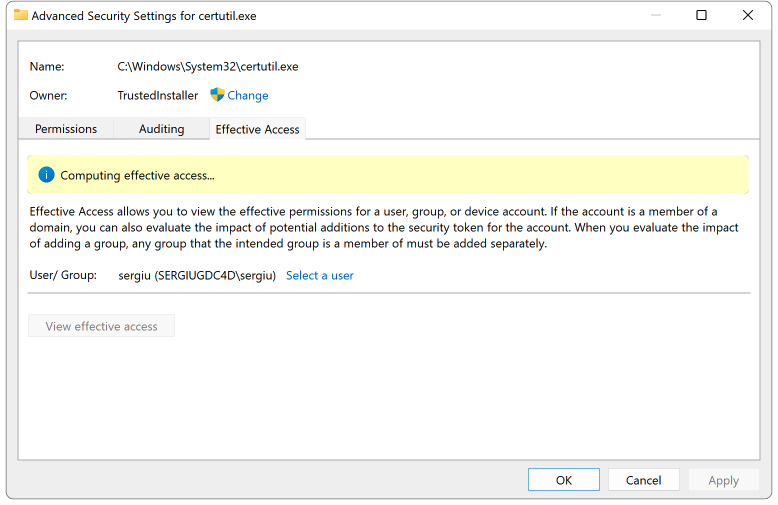 Microsoft addressed it for Windows 11 22H2 users on Tuesday with the release of this month's Optional Cumulative Update (KB5027303), and it will be generally available to all affected Windows users with the release of updates. cumulative of July Patch Tuesday.
"This update fixes an issue that affects File Explorer. It may become unresponsive indefinitely. This occurs after trying to view effective access permissions for files in File Explorer," Microsoft explain.
"This issue will be resolved on other affected Windows versions in updates that will be released in the short term," the company said. added on tracking the health of Windows versions.
Workaround available for users still affected by this bug
Redmond is also offering a workaround for Windows 11 21H2 and Windows Server 2022 users affected by this known issue, advising them to restart their systems or log off.
"If you attempted to show effective access, you can mitigate the CPU usage issue by restarting your device or logging out for the affected user," Microsoft said.
Two weeks ago, the company also fixed a Windows 11 bug triggering intermittent failures when saving and copying files on Windows 11 22H2 systems.
The known issue has been resolved in the KB5027231 Windows 11 cumulative update released during this month's Patch Tuesday.