Genshin Impact developer miHoYohas responded to an in-game hacking situation that has caused problems recently in its player community, warning that they would take legal action against those responsible.
Genshin Impact is a massively popular anime-style open-world exploration game available for Android, iOS, PS4, and Windows with over 60 million active players.
Starting late last week, many Genshin Impact players, known as Travelers, reported having been impacted by so-called 'Kaveh hacks' that severely impacted their ability to progress in the game. 
The hacks were conducted through an unofficial plug-in that enabled the Kaveh game character to delete items vital for achieving progress in co-op mode, such as puzzles or NPCs the player needs to interact with.
In some cases, travelers reported that their exploration points had been reversed due to the manipulation.
This situation severely impacted the gameplay experience of many players, essentially bricking their playthrough and causing significant concerns in Genshin Impact's massive community.
The game's developer announced on X yesterday that the so-called 'Kaveh Hacks' that caused problems to a significant number of travelers have been mostly contained, and impacted accounts will be notified individually via in-game messages.
Currently, co-op mode works as intended, but the restoration of some items and accounts hasn't been completed yet. miHoYo promised all issues to be fixed in a future update.
Taking legal action
The game creator has also committed to taking legal action against those who developed, used, or shared the plug-ins that enabled in-game manipulation for violation of the game's terms of service and all applicable laws.
"To maintain fair play and protect the rights of Travelers, we have banned accounts using these plug-ins and will take legal action against developers, users, and disseminators of such plug-ins," reads the developer's post.
"Currently, we have confirmed that developers and users of this plug-in are posting content in the community or on video sites, disguising themselves as victims to confuse the public and incite panic."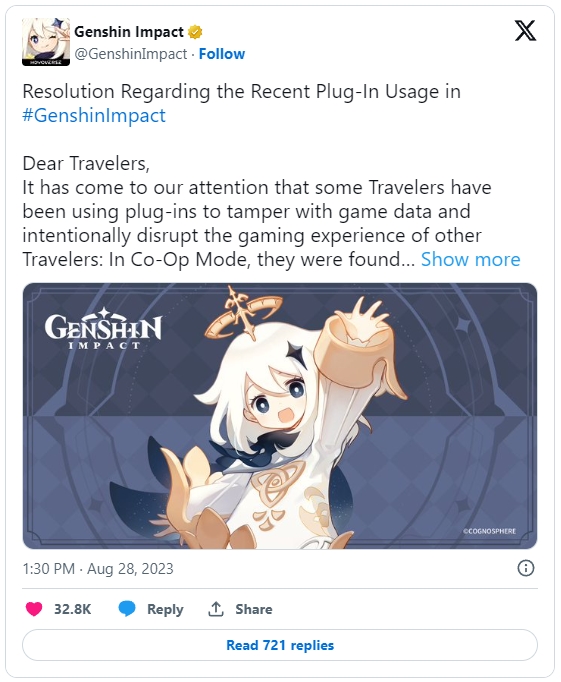 Genshin Impact players who have been impacted by the 'Kaveh Hacks' are urged to contact customer support and submit a report to help fix all violations that undermine in-game fair play.
In-game hacks and cheats constitute a breach of terms of service, and if they include modification of proprietary game code and assets, they can also qualify as copyright infringement.
Also, hacking game servers or exploiting vulnerabilities can be classified as illegal under computer fraud and abuse laws in some jurisdictions.
Ultimately, actions that give players an unfair advantage and compromise the game's integrity can severely disrupt the in-game economy and lead to financial setbacks for the publisher. 
Therefore, companies are incentivized to do everything possible to prevent such activities.
In February 2023, Valve set up a special honeypot to catch and ban over 40,000 accounts of its Dota 2 game, which used cheating software to gain an unfair edge over other players.
The same month, Bungie was awarded $4.3 million in damages and fees after suing a company for selling Destiny 2 game cheats.