The FBI and Ukrainian police seized nine cryptocurrency exchange websites that facilitated money laundering for scammers and cybercriminals, including ransomware actors.
In its announcement, the FBI indicates that the operation was carried out with the help of the Virtual Currency Response Team, the National Police of Ukraineand the country's prosecutors.
The nine websites and their servers seized in this operation are:
24xbtc.com
100btc.pro
pridechange.com
101crypta.com
uxbtc.com
trust-exchange.org
bitcoin24.exchange
paybtc.pro
owl.gold
Visiting any of these domains today displays the grab banner below, alternating its message between Russian and English.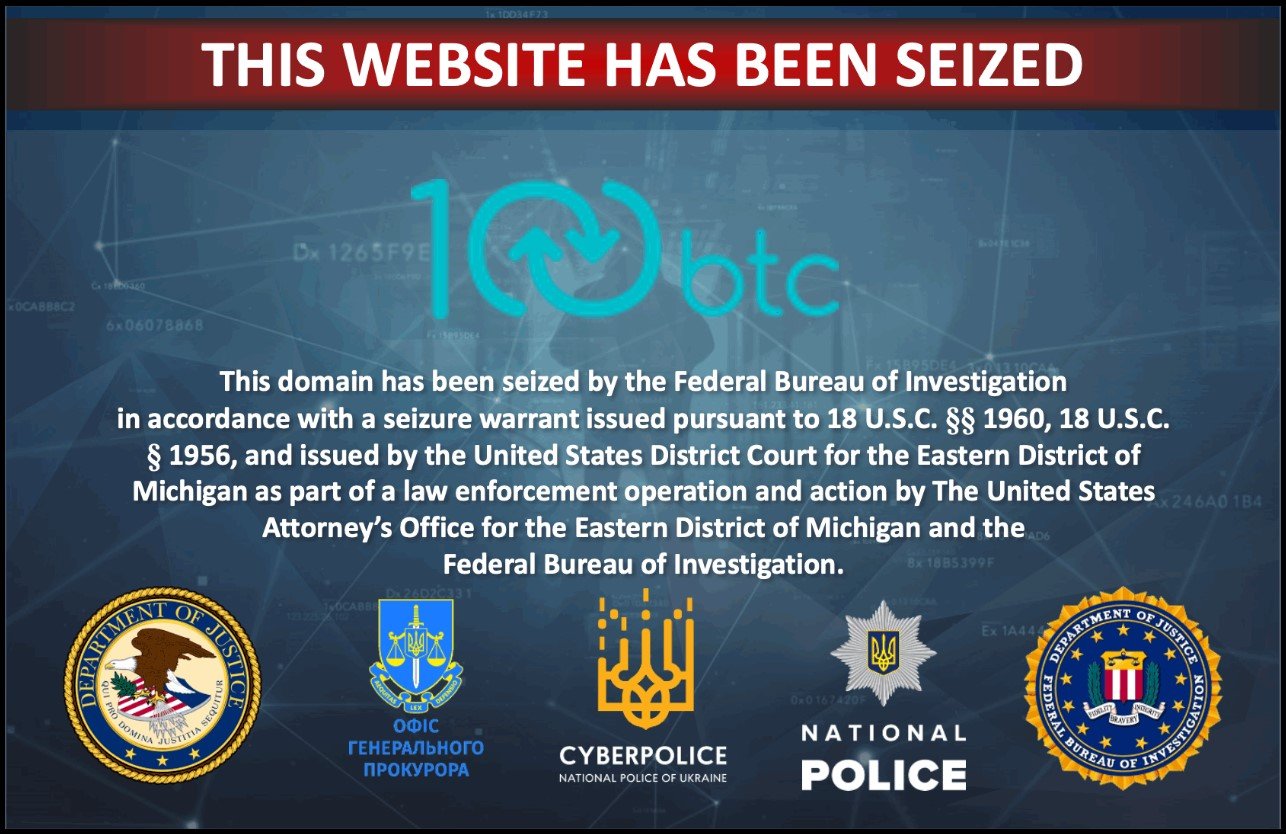 The seized sites allowed users to anonymously convert cryptocurrency into harder-to-trace coins to hide the money trail and help cybercriminals clear their thieves without being tracked down by law enforcement.
Most of these platforms offered users live support and instructions in Russian and English, covering a wide range of cybercriminal communities.
"Non-compliant virtual currency exchanges, which have a lax anti-money laundering program or which collect minimal or no know-your-customer information, serve as important hubs in the cybercrime ecosystem. and operate in violation of United States Code Title 18, Sections 1960 and 1956," it read. The FBI announcement.
"By providing these services, virtual money changers knowingly support the criminal activities of their customers and become co-conspirators in criminal schemes."
The website's servers were located in the United States, Ukraine and various European countries and were also seized during the law enforcement operation.
Seized infrastructure can be analyzed by law enforcement to unmask cybercriminals who have laundered money through the sites, which could lead to further arrests in the future.
Crackdowns on cryptocurrency laundering networks are very important, as these platforms allow hackers to continue their extortion activities unabated and use the stolen funds in the real world.
By taking down these services, law enforcement not only hinders the financial operations of ransomware groups, but also sends a strong message to the operators of these platforms that illegal or shady activities will not be tolerated.
In March 2023, the FBI, together with Europol and German police, seized the cryptocurrency mixing service "ChipMixer", which was used by hackers, ransomware gangs and scammers to launder their profits.
Most recently, on April 24, 2023, the US Treasury Department's Office of Foreign Assets Control (OFAC) sanctioned brokers who have supported North Korean cryptocurrency laundering networks.
Finally, at the beginning of the year, the American DoJ stopped the founder of Bizlatoa Hong Kong-registered cryptocurrency exchange, following allegations of helping cybercriminals launder illegally obtained money.