In today's ever-evolving digital landscape, the significance of effective malware detection remains paramount. With the escalating threat of cyberattacks, cybersecurity serves as a crucial shield against breaches and data compromises.
PolySwarm, through the integration of blockchain technology, takes a significant leap forward in enhancing malware detection capabilities.
By harnessing the power of collaborative threat detection engines, the platform pioneers innovative methodologies to fortify defenses against these evolving threats.
This collaborative endeavor has now welcomed a new addition – the Cyber Threat Intelligence search engine Criminal IP – into PolySwarm's expansive detection engine network.
PolySwarm: Elevating Detection with Specialized Engines
At the heart of PolySwarm's innovative approach lies specialized detection, facilitated by microengines meticulously tailored to distinct threat categories.
These microengines are expertly designed and overseen by a vast community of security professionals, enabling the efficient breakdown of threat detection tasks.
Crafted by diverse specialists, these focused detection engines effectively target specific threats, including malware, phishing, and ransomware.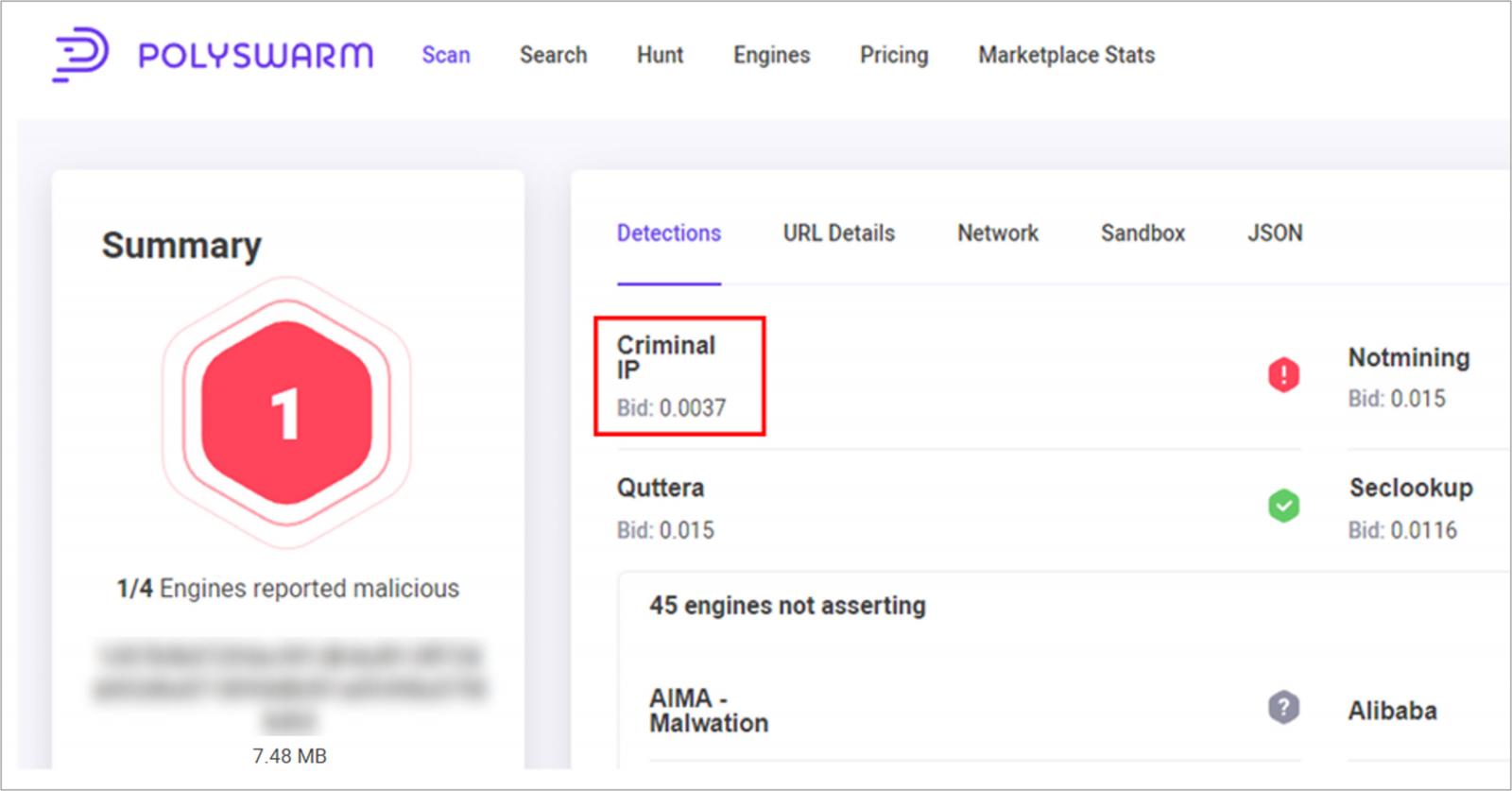 Criminal IP's Expertise Enhances Threat Data Aggregation and Validation
Criminal IP's expertise is set to amplify the aggregation and validation of critical threat data.
The addition of Criminal IP as a new contributor to PolySwarm's malicious URL detection represents a significant leap in specialized threat identification.
Through the utilization of precision-crafted microengines developed by a diverse security community, PolySwarm takes strategic measures to address diverse threat categories, thereby elevating the accuracy of threat detection.
Furthermore, Criminal IP's contribution to the aggregation and validation of threat data plays a pivotal role in identifying authentic threats while minimizing false positives.
About Criminal IP
Criminal IP launched its global cybersecurity service on April 17, 2023, after a successful year-long beta phase. The company has established technical and business partnerships with renowned global security firms, including VirusTotal, Splunk, Anomali, LogRhythm, Datadog, and more. Furthermore, Criminal IP has recently released a GitHub Reference page, showcasing code examples that utilize the Criminal IP API. With support for five languages: English, French, Arabic, Korean, and Japanese, the platform ensures seamless utilization of all Criminal IP services, catering to a diverse user base.
Sponsored and written by Criminal IP