ASUS has apologized to customers for a server-side security maintenance error that caused a wide range of affected router models to lose network connectivity.
The issue has been widely reported on social media and chat platforms since May 16, 2023, with people seeming intrigued by the concurrent connectivity issues on several ASUS routers and others complain on the lack of communication from the seller.
As the Taiwanese hardware maker explained in a statement released today and via a safety bulletinthe problem was introduced by an error in the configuration of a server settings file.
"During routine security maintenance, our technical team discovered an error in the configuration of our server settings file, which could potentially cause network connectivity to be interrupted on a portion of the routers," ASUS explains in a bulletin. support.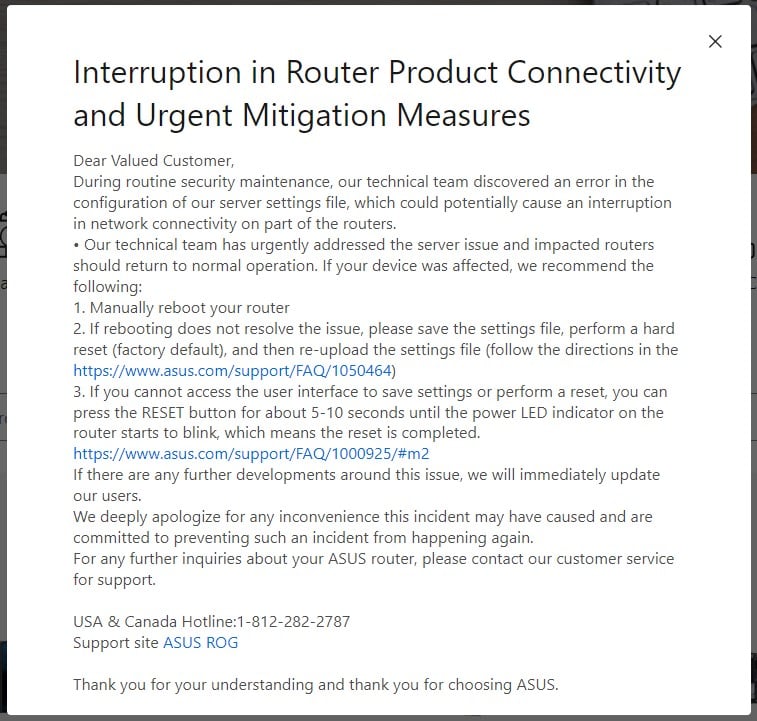 Although the company's statement does not explicitly state the type of error that occurred and its exact impact on remote routers, a user on Reddit explained that the connectivity issues were caused by a corrupt definition file for ASD (ASUS AiProtection).
"Updating the firmware pretty much solved this problem, but so does simply resetting the router to factory settings as long as it clears NVRAM," the user explained on Reddit.
"In fact, any method that deletes the offending file (/jffs/asd/chknvram20230516) will bring the router back to normal."
ASD is an integrated security daemon provided by Trend Micro, and it is used in a wide range of router models for real-time protection against emerging threats.
However, this component is updated whether or not the user has enabled automatic security (firmware) updates on their device.
Apparently the corrupted definition file for ASD was automatically pushed to all affected routers, causing them to run out of space and memory in the file system and eventually crash.
Resolution of problem
ASUS says its technical team has resolved the server issue, so all affected routers should be back to normal operation now.
In some cases, however, users will need to manually restart their devices to eliminate connectivity issues.
If that still isn't enough, ASUS suggests performing a factory reset and re-downloading the settings file by following these instructions. step by step instructions.
For affected users who cannot perform a reset, the vendor advises them to press and hold the RESET button on the device for 5-10 seconds until the power light starts flashing , indicating that a reset is complete.
"We deeply apologize for any inconvenience this incident may have caused and are committed to preventing such an incident from happening again," the seller's statement concludes.
Those who have taken the recommended actions and are still having problems are encouraged to contact ASUS Support for further help and advice.