The U.S. Federal Trade Commission (FTC) says Americans once again reported record losses of $1.3 billion from romance scams in 2022, with median losses of $4,400.
According to previous FTC Consumer Sentinel Network (Sentinel) sources, Americans also reported losing $493 million in 2019, $730 million in 2020, and $1.3 billion throughout 2021.
"Last year's romance scam numbers looked a lot like 2021, and that's not a pretty picture. In 2022, almost 70,000 people reported a romance scam and reported losses reached a staggering $1 $.3 billion," the FTC said. said.
Scam loss statistics are based on Americans' romance scam reports to the FTC's Sentinel and now also include reports filed with the Internet Crimes Complaint Center (IC3) after 2019.
Unfortunately, these numbers reflect only a tiny fraction of the damage inflicted by romance scammers, as the vast majority of frauds are never reported.
Based on the reports filed, the most popular platforms among fraudsters to contact potential victims are Facebook (28%) and Instagram (29%), while the top payment methods are cryptocurrency (34%) and bank transfers/payments (27%).
"People said they sent more money to romance scammers using cryptocurrency and bank transfers than any other method: together they accounted for more than 60% of reported losses from romance scams in 2022," added the FTC.
"While not the most expensive form of payment, gift cards were the most frequently reported – 24% of people who said they lost money to a romance scam in 2022 said they were taken using gift cards."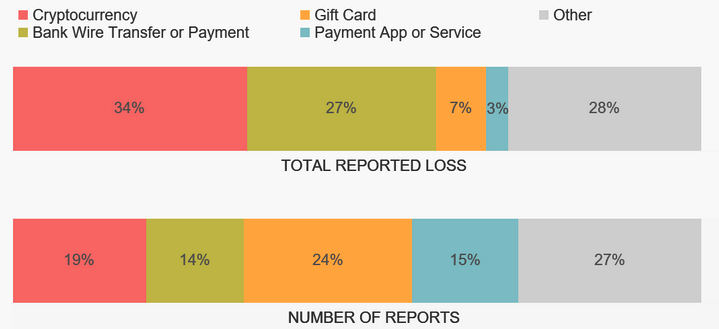 How to avoid falling victim to romance scams
This type of scam (also known as trust fraud) usually results in devastating emotional scars in addition to inflicting considerable financial loss.
The scammers behind romance fraud gain the trust of potential victims on social media platforms or dating website using fake online identities, and once they lure their targets, they will take advantage of the illusion of a romantic relationship to manipulate their victims into sending them money or providing sensitive financial information ( which can be used for other types of fraud, including investment scams).
The FBI also warned victims of romance scams that they could get recruited as silver mules and tricked into illegally transferring money on behalf of fraudsters.
To further illustrate the scale of this enormous, persistent problem, the Department of Justice website lists hundreds of cases where romance scammers have been charged or convicted of running or being involved in large-scale romance fraud schemes targeting US citizens.
The FTC says you can use the following tips to spot scammers red-handed when looking for love online:
No one legitimate will ever ask you to help – or insist that you invest – by sending cryptocurrency, giving the numbers on a gift card, or transferring money. Anyone who does is a scammer.
If someone tells you to send money to receive a package, you can bet it's a scam.
Tell your friends or family about a new love interest and pay attention if they are worried.
Try a reverse image search of profile pictures. If the details don't match, it's a scam.
If you fall prey to a romance scammer, the FBI recommends stopping all contact immediately and filing a complaint at www.ic3.gov.
You should also contact your bank immediately to see if the financial transactions you made after being contacted by the scammer can be stopped or reversed.