Microsoft has released Windows 11 Cumulative Updates KB5023706 and KB5023698 for versions 22H2 and 21H2 to fix security vulnerabilities and operating system bugs.
With the release of Windows 11 22H2 KB5023706, Microsoft released the 'Moment 2' update for all preview users since last month.
This update brings many new features including Tabbed Notepad, Phone Link for iOS, Searchable Task Manager, Tablet Optimized Taskbar, Screen Recording in Snipping Tool, voice assistance and more.
KB5023706 and KB5023698 are mandatory cumulative updates for Windows 11 containing the March 2023 Patch Tuesday security updates which fix 83 vulnerabilities in various Microsoft products.
Windows 11 users can install today's update by going to Begin > Settings > Windows Update and clicking on 'Check for updates.'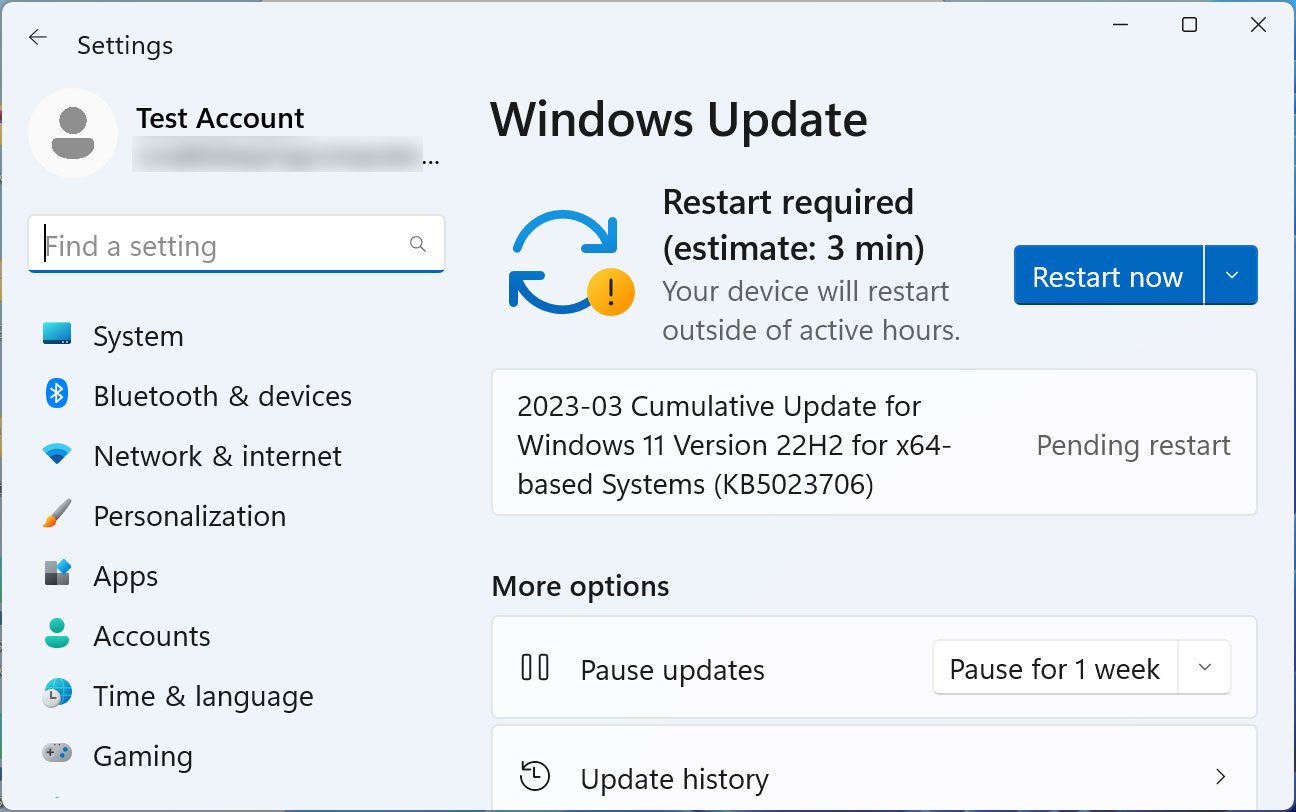 Windows 11 users can also manually download and install the update from the Microsoft Update Catalog.
What's New in Windows 11 Updates KB5023706 and KB5023698
After installing today's non-security update, Windows 11 22H2 (KB5023706) will have its build number replaced by 22621.1413and 21H2 (KB5023698) will be replaced by 22000.1696.
As mentioned earlier, Windows 11 22H2 updates bring many new features as part of Moment 2 update. A full list of changes can be found in our article dedicated to the Moment 2 update.
While bugs have been fixed in Windows 11 22H2 and 21H2, the changelogs are now very different.
As Windows 11 22H2 is now the recommended version of the operating system, below we will focus on the highlights of its associated update:
This update fixes an issue that changes the Color Filters setting to Grayscale when you select Inverted.

For IE mode users, Microsoft has fixed an issue that sometimes causes status bar text to become invisible.

Microsoft has fixed an issue causing a blue screen during video playback after setting high dynamic range (HDR) on your display.

Microsoft fixed an issue that could prevent you from using a touch keyboard and the PIN entry keyboard to sign in to your device.

This update fixes an issue that affects the folders that display in the Browse for Folder picker.

Fixed an issue with File Explorer failing to move input focus when using Shift+Tab or Shift+F6.

Volume up and volume down commands from a Bluetooth keyboard are now displayed in the Windows UI.

This update resolves an issue that affects Xbox subscriptions when you purchase a subscription using the "Redeem Code" option and recurring billing is disabled.
Microsoft also advises that this update implements phase three of Distributed Component Object Model (DCOM) hardening, as described in KB5004442.
A long-standing issue where copying files from network drives to a local drive over SMB would be slower than expected.
Microsoft is aware of two ongoing issues for Windows 11 22H2 that have not been resolved in this update.
A long-standing problem is provisioning packages not working as expectedand Windows Server Update Services (WSUS) servers may not serve Windows 11 22H2 updates released on or after February 14, 2023.
Finally, Microsoft also indicates that this update fixes an issue preventing a reused computer account from joining an Active Directory domain. You can find more information about this problem in KB5020276.
You can review last month Windows 11 Preview Update Bulletin KB5022913 for a full list of changes in this cumulative update.